Welcome to my website! I was elected to represent the 95th District in the Virginia House of Delegates (parts of Newport News and parts of Hampton). I am honored to serve the citizens and help make the Peninsula an even better place to live, learn, work, play, and raise a family.
On, Tuesday, November 7th, we elected new positions across the Commonwealth. Congratulations to Governor-Elect Ralph Northam, Lt. Governor-Elect Justin Fairfax, re-elected Attorney General Mark Herring, and new members to the House of Delegates. In Newport News, congratulations to Sheriff Gabe Morgan, Commonwealth's Attorney Howard Gwynn, Treasurer Marty Eubank, and Commissioner of the Revenue Tiffany Boyle. In Hampton, congratulations to Sheriff BJ Roberts, Commonwealth's Attorney Anton Bell, Treasurer Molly Joseph Ward, and Commissioner of the Revenue Ross Mugler. I look forward to all working together to make the 95th District even better!
The 2018 General Assembly Legislative Session began at 12noon on Wednesday, January 10, 2018. All 100 members of the Virginia House of Delegates took our oath to begin a new term. Watch our Official Swearing In by clicking here.

Be sure to check back often for news posts and updates from the important legislative session, including legislation that I am sponsoring. Also, stay tuned for ways you can stay engaged for session and beyond. Continue to use your voice. Stay informed on this site and our social media pages to stay connected to what we're doing and how you can help!
Now, let's go make a difference!
Sincerely,
Delegate Marcia "Cia" Price,
Virginia House of Delegates, District 95
"Be the change. Do the work."
News
Monday, January 22, 2018 6:03 PM
RICHMOND, Va. (AP) - A Virginia lawmaker says drawing names from a bowl is not the best way to determine the outcome of an election recount.
The Daily Press reported Monday that Del. Marcia Price has introduced a proposal to hold a special election the next time a recount vote results in a tie.
(Click for full article)
---
Monday, January 22, 2018 3:40 PM
temming from a violent rally in Charlottesville last August, SNewport News Del. Marcia "Cia" Price and the Virginia Attorney General's office want the state to add domestic terrorism to its list of criminal charges and make it illegal in certain cases for people associated with domestic terrorist groups to have a meeting.
A bill that Price, D-Newport News, has proposed would also require the superintendent of Virginia State Police to identify active domestic terrorist organizations and list them in a guiding document for state agencies, which is published annually. The bill's focus is more on groups than individuals.
Price introduced House Bill 1601 on Jan. 19, the last day to file bills. It defines what domestic terrorism is — partially mirroring the state's definition of a hate crime — and what constitutes a domestic terrorist organization.
(Click for full article)
---
Monday, January 22, 2018 9:00 AM
The best way to give a voice to voters when a recount yields a tie, as happened in the last election for Newport News' 94th House district, is to call a special election, says Del. Marcia Price, D-Newport News.
That's what she heard when she was doing her holiday shopping in the days before a drawing of lots declared Del. David Yancey, R-Newport News, the winner of that tie vote.
So she's introduced legislation calling for special elections after a tie in a recount, requiring the panel of judges overseeing a recount to "promptly" issue a writ for a special election.
"The only way to give the choice back to the people it belongs to is to call a special election," Price said.
She said she started working on the idea before the lot drawing earlier this month that Yancey won, finally filing it late last week.
(Click for full story)
---
Thursday, January 18, 2018 8:00 PM
Dredging the silted-up channels that bay watermen and rural boating businesses rely on, turning Newport News' summer program for at-risk youth into a year-round effort and helping the Fort Monroe Authority with its ballooning maintenance expenses are all on Peninsula legislators' budget wish list this year.
None were in outgoing Gov. Terry McAuliffe's final proposed budget, but all will be points of contention over the next several weeks as House of Delegates and state Senate money committees tear up McAuliffe's plan and come up with their own spending priorities for the next two years.
...Del. Marcia "Cia" Price, D-Newport News, is asking for a total of nearly $4.5 million over the next two years as a grant to turn the city's 10-week Summer Training and Enrichment Program (STEP) for at-risk youth into a year-round employment training program.
(Click for full article)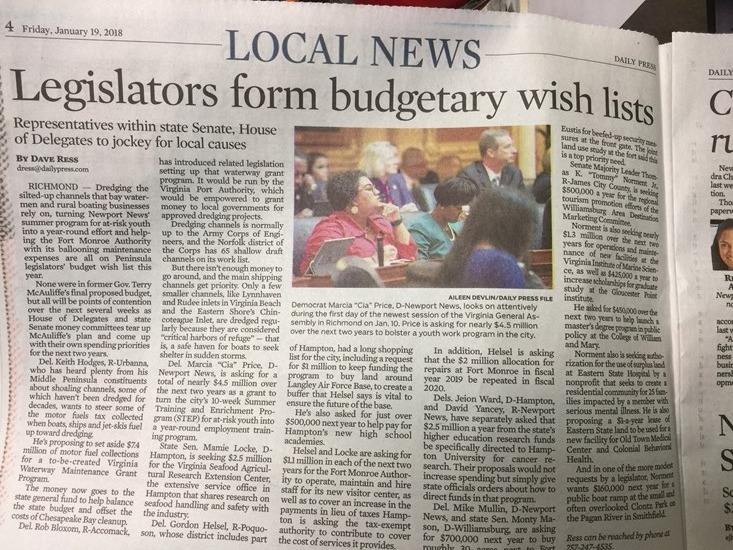 ---
Tuesday, January 16, 2018 8:20 PM
Del. Marcia Price (D-Newport News) helped introduce legislation that would help Virginians re-finance their student loans. It's something she knows a lot about. At 37 years old, she still owes more than $90,000 for her education. "I am not alone. There are over one million borrowers in Virginia and HB 615 could help at least 630,000 of them," said Price.
Price went to Spelman College in Atlanta and completed two graduate programs at Howard University in D.C. She said the trade-off was stunted personal economic growth. "I can personally attest to feeling the pressure of not holding up to my family's legacy of generational wealth. By the time my mother and grandmother and grandfather were my age, they had houses, they had property they owned that could be passed on to the next generation," she said. Price said money that would normally go to a mortgage instead goes to student loan payments.
(Click for full article and video from the interview)
By Evanne Armour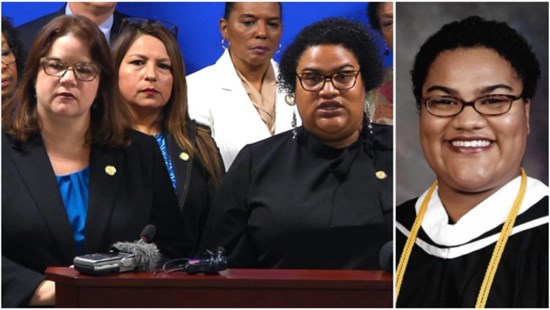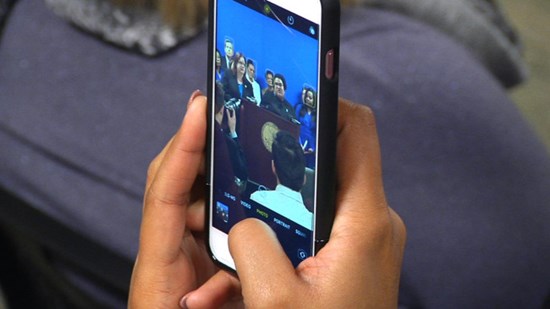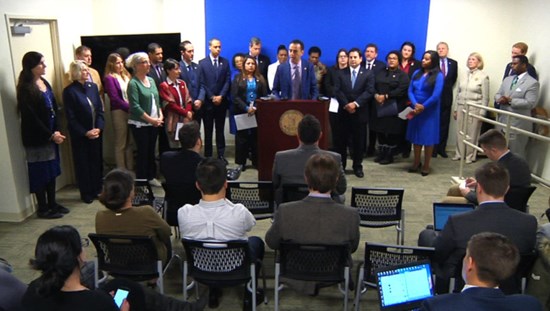 Photo Cred WRIC