Welcome to my website! I was elected to represent the 95th District in the Virginia House of Delegates (parts of Newport News and parts of Hampton). I am honored to serve the citizens and help make the Peninsula an even better place to live, learn, work, play, and raise a family.
The 2020 General Assembly Legislative Session began at noon on Wednesday, January 8, 2020. Even numbered years are "long sessions" and are scheduled for 60 calendar days. During Session, all 100 members of the Virginia House of Delegates met every Monday-Friday at noon. You can watch each session here.
Our committee meetings were held at various times during the week. Find our committee video here. Can't remember how a bill becomes a law, no problem! Get your refresher here.
The House votes on house bills and then at Crossover, everything that has passed the House goes over to the Senate and vice versa. Then once we are finished, we will adjourn sine die in early March and then our next step in the legislative process will be Reconvened (Veto) Session on April 22, 2020. There the Senators and Delegates react to the Governor's vetoes and amendments to bills that had been passed.
Most bills will become law on July 1st.
You can track the bills that have been introduced this year here: bit.ly/2020VABills And here is the link for the bills I have introduced this year here: bit.ly/Price2020Legislation
I would love to hear your feedback on the bills! We encourage you to use this site, emails, and phone calls for constituent communication. We also invite you to come up to Richmond during Session to see the process!
In the meantime, sign up for our email newsletter to receive important updates. And be sure to check back often for news posts and updates from the District. Stay informed on this site and our social media pages to stay connected to see what we're doing and how you can help!
Now, let's go make a difference!
Sincerely,
Delegate Marcia "Cia" Price,
Virginia House of Delegates, District 95
"Be the change. Do the work."
updated 2/9/2020
News
Wednesday, February 12, 2020 3:34 PM
"People who may have voted for Democrats because they're angry at Donald Trump for whatever reason are going to have a rude awakening about just how far and how fast this Democrat agenda is proceeding," Gilbert said.
Del. Marcia Price, D-Newport News, said it's been interesting to see the different reactions to the bills Democrats are passing.
"There's excitement about making things more equitable," Price said. "But then there's a population that feels punished with equity. And that can really speak to the underlying privilege that has been in the code for so long."
---
Friday, February 7, 2020 12:38 PM
"We are grateful to our sponsors in the Virginia General Assembly, and to citizens across the state who are making it clear that they prefer a national popular vote for president," said John Koza, chairman of National Popular Vote. "Regardless of party, the people of Virginia prefer a system where every voter, in every state, is politically relevant in every presidential election. National Popular Vote delivers on that promise."
Dels. Marcia "Cia" Price and Mark Levine are chief co-patrons of the measure in the Virginia House.
Since the National Popular Vote movement began in 2006, fifteen states and the District of Columbia – altogether totaling 196 electoral votes – have passed the National Popular Vote bill. Virginia's 13 electoral votes would bring that total to 209 – just 64 electoral votes short of the total necessary for the National Popular Vote Interstate Compact to take effect.
"We are determined to achieve 270 or more electoral votes," Koza said. "We will be dogged in our approach to attract Republicans, Democrats, and Independents who believe there is a better way to elect the President of the United States."
---
Thursday, February 6, 2020 3:30 PM
Del. Marcia S. "Cia" Price (seated) with other Democrats on the floor of the Virginia House of Delegates as the General Assembly prepared to convene on Jan. 8. (Jonathan Drake/Reuters)
(Excerpts from article)
But Del. Marcia S. "Cia" Price (D-Newport News), who is sponsoring the proposal to scrap the amendment, said the original plan is fatally flawed because it includes no language about minority representation.
"We are the most diverse General Assembly that we've ever been; we are the most diverse state that we've ever been," Price said. "Why would we not want to make sure that that is a part of the constitution?"
At the same time, the subcommittee also advanced Price's bill on a 5-3 party-line vote. Price would bypass the amendment but set up the same type of commission, with instructions about minority representation written directly into its charter.
The problem with enacting the Republican amendment, Price said, is that future legislatures could completely rewrite the rules that govern it. It would be better to come back next year with a fully realized amendment, she said, and set up a commission under the statute in the meantime.
---
Thursday, February 6, 2020 12:47 PM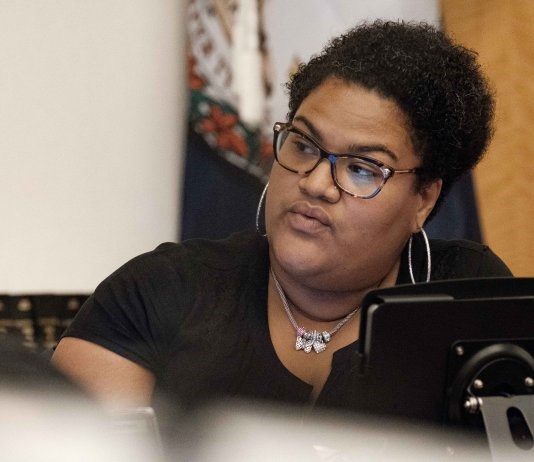 Price's bill originally called for an independent, citizen-only commission, barring legislators from serving on the redistricting panel.
"I was told that I did not have the votes for that," Price said.
A newly amended version of Price's bill calls for a 16-person commission made up of eight legislative members and eight citizen members.
Price contends that because the constitutional amendment lacks explicit protections for communities of color, Democrats should take time to fix it, even if means restarting the two-year clock for changing the Constitution. She has disputed the notion that her approach is about protecting Democrats' power to gerrymander, noting she spoke out against the amendment last year even as many of her colleagues voted for it.
"My concerns from 2019 have not been assuaged with the new composition of the General Assembly," Price said during Thursday's hearing. "Because my concerns are not about party, but about people."
(Click for full article)
---
Friday, January 31, 2020 7:00 PM
According to the bill, provisions take effect 14 days into a shutdown.
"These federal workers are doing their job, showing up to work every day, and if something were to happen outside of their control, because politics gets involved...they're stuck in the middle," Delegate Price said. "And, these are real humans that are just trying to navigate life...and if they're thrown into a situation where they can't even take care of where they live...then I think it was upon us to step in and make sure they had these protections."
A 2019 study by Prudential showed that nearly half of the 350 federal workers who responded to a survey about the shutdown said they missed a bill payment during the shutdown. In total, the Senate Appropriations Committee reported last year that about 800,000 federal employees had been furloughed or working without pay.
According to OPM, Virginia, Maryland and D.C. comprise nearly a quarter of all federal workers in the country.
Sign Up for Updates
Thanks for signing up!