News
Latest updates:
Wednesday, February 12, 2020 3:34 PM
"People who may have voted for Democrats because they're angry at Donald Trump for whatever reason are going to have a rude awakening about just how far and how fast this Democrat agenda is proceeding," Gilbert said.
Del. Marcia Price, D-Newport News, said it's been interesting to see the different reactions to the bills Democrats are passing.
"There's excitement about making things more equitable," Price said. "But then there's a population that feels punished with equity. And that can really speak to the underlying privilege that has been in the code for so long."
---
Friday, February 7, 2020 12:38 PM
"We are grateful to our sponsors in the Virginia General Assembly, and to citizens across the state who are making it clear that they prefer a national popular vote for president," said John Koza, chairman of National Popular Vote. "Regardless of party, the people of Virginia prefer a system where every voter, in every state, is politically relevant in every presidential election. National Popular Vote delivers on that promise."
Dels. Marcia "Cia" Price and Mark Levine are chief co-patrons of the measure in the Virginia House.
Since the National Popular Vote movement began in 2006, fifteen states and the District of Columbia – altogether totaling 196 electoral votes – have passed the National Popular Vote bill. Virginia's 13 electoral votes would bring that total to 209 – just 64 electoral votes short of the total necessary for the National Popular Vote Interstate Compact to take effect.
"We are determined to achieve 270 or more electoral votes," Koza said. "We will be dogged in our approach to attract Republicans, Democrats, and Independents who believe there is a better way to elect the President of the United States."
---
Thursday, February 6, 2020 3:30 PM
Del. Marcia S. "Cia" Price (seated) with other Democrats on the floor of the Virginia House of Delegates as the General Assembly prepared to convene on Jan. 8. (Jonathan Drake/Reuters)
(Excerpts from article)
But Del. Marcia S. "Cia" Price (D-Newport News), who is sponsoring the proposal to scrap the amendment, said the original plan is fatally flawed because it includes no language about minority representation.
"We are the most diverse General Assembly that we've ever been; we are the most diverse state that we've ever been," Price said. "Why would we not want to make sure that that is a part of the constitution?"
At the same time, the subcommittee also advanced Price's bill on a 5-3 party-line vote. Price would bypass the amendment but set up the same type of commission, with instructions about minority representation written directly into its charter.
The problem with enacting the Republican amendment, Price said, is that future legislatures could completely rewrite the rules that govern it. It would be better to come back next year with a fully realized amendment, she said, and set up a commission under the statute in the meantime.
---
Thursday, February 6, 2020 12:47 PM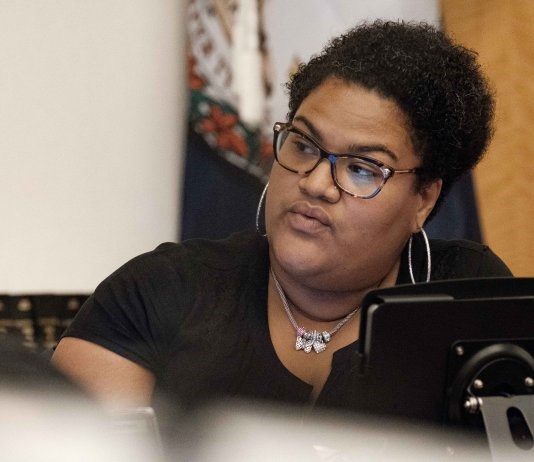 Price's bill originally called for an independent, citizen-only commission, barring legislators from serving on the redistricting panel.
"I was told that I did not have the votes for that," Price said.
A newly amended version of Price's bill calls for a 16-person commission made up of eight legislative members and eight citizen members.
Price contends that because the constitutional amendment lacks explicit protections for communities of color, Democrats should take time to fix it, even if means restarting the two-year clock for changing the Constitution. She has disputed the notion that her approach is about protecting Democrats' power to gerrymander, noting she spoke out against the amendment last year even as many of her colleagues voted for it.
"My concerns from 2019 have not been assuaged with the new composition of the General Assembly," Price said during Thursday's hearing. "Because my concerns are not about party, but about people."
(Click for full article)
---
Friday, January 31, 2020 7:00 PM
According to the bill, provisions take effect 14 days into a shutdown.
"These federal workers are doing their job, showing up to work every day, and if something were to happen outside of their control, because politics gets involved...they're stuck in the middle," Delegate Price said. "And, these are real humans that are just trying to navigate life...and if they're thrown into a situation where they can't even take care of where they live...then I think it was upon us to step in and make sure they had these protections."
A 2019 study by Prudential showed that nearly half of the 350 federal workers who responded to a survey about the shutdown said they missed a bill payment during the shutdown. In total, the Senate Appropriations Committee reported last year that about 800,000 federal employees had been furloughed or working without pay.
According to OPM, Virginia, Maryland and D.C. comprise nearly a quarter of all federal workers in the country.
---
Friday, January 31, 2020 6:31 PM
---
Friday, January 31, 2020 6:00 PM
The money would be used to perform community assessments in each locality. The goal is to figure out how each individual community should tackle the problem. 95th District Delegate Marcia Price introduced the bill. She represents parts of Hampton and Newport News. "Unfortunately, too many young people are choosing to spend their time affiliated with groups that are not good for them and don't have their best interest at heart, and so what these do is help make sure that the community is recruiting harder for the good activities and the successful trajectory harder than the gang recruiters are," said Price. Price said she hopes urban areas will come together and show the youth they have support. Helping them stay away from weapons, finding jobs, and living better lives. Price said the assessments are a key first step in identifying how each community should address the problem. "One of the components of these community assessments is that they are truly community-based, and I know a lot of people do program evaluations but really at the center of these conversations should be the community that's going to be impacted, it should be the youth to find out what they really want not just us making decisions for them, so it is proactively looking for input from these communities," said Price. (Click for full article and video)
---
Thursday, January 30, 2020 3:00 PM
---
Thursday, January 30, 2020 12:00 AM
The gun measures passed over the vociferous opposition of the Republican minority in the House, which argued the bills violate the Second Amendment rights of law-abiding gun owners.

House Bill 421, introduced by Del. Marcia Price of Newport News, grants localities the authority to adopt and enforce their own ordinances pertaining to the possession, storage and transportation of firearms. The bill also repeals existing state law that bars local or state government entities from bringing lawsuits against firearms manufacturers.

It passed on a 53-46 vote, mostly along party lines, and set the tone as House members engrossed other bills for final passage at a later date.
---
Thursday, January 30, 2020 12:00 AM
Much like I did when I founded my clinic, Virginia House Delegate Marcia Price has stepped up and addressed a critical issue facing our community. She saw how a closed-door, exclusionary redistricting process set our home on a path of ever-increasing inequality. She knows what sort of damage has been done, and now she's leading from the front with her latest proposal for an independent redistricting process in 2021.
A born-and-raised resident of Newport News, Delegate Price put forward a bill that could bring Virginia closer to true equality among its residents. She crafted a bill that demands transparency, looks out of communities of color and protects against one party obstructing progress. I believe this to be the best opportunity to transform Virginia from one of the worst gerrymandered states in the country to a place where residents from all walks of life have a seat at the table.
I am especially encouraged by the reform's commitment to ensuring increased transparency through the whole redistricting process. Too often, communities like my own are excluded from important decisions that enormously affect their livelihoods. It's hard to blame some of my discouraged neighbors who feel that their vote doesn't actually matter. They've felt cheated by the politicians who systematically reduced their voting power through gerrymandering.
Some of the country's most manipulated maps, like those found in Virginia, are borne out of a process that intentionally excludes communities of color and offers no opportunity for public input. With her proposal, Delegate Price intends to shed light on redistricting and ensure that people of color have ample time to actively participate in hearings. With a more diverse group of people comes a more diverse set of views and opinions. And if we turn Delegate Price's bill into law, we'll set the stage for a process that's built to actually listen to all Virginians.
We also need reform that prevents members of one party, no matter if they are Democrats or Republicans, to obstruct progress and prevent the redistricting process from moving forward. Delegate Price's reform should serve as a reminder to politicians that their job is not to serve themselves and increase their own party's influence, but to work on behalf of their constituents. This is how government should actually function — setting aside differences in order to find a compromise that will benefit the people.
I want to commend Delegate Price for her leadership and for working to better her own hometown. She called out gerrymandering as blatant cheating and worked to create a plan that could help repair our broken political system. She's done watching lawmakers siphon political influence from voters only to fuel their own political aspirations. Virginians deserve a real voice, and her plan for independent redistricting reform is our best opportunity to return power to the people.
Golden Bethune-Hill is a registered nurse and a founder of The Free Clinic in Newport News, where she is the volunteer executive director. She was the lead plaintiff in the 2017 Bethune-Hill v. Virginia State Board of Elections case.
(Click for full article)
---
Wednesday, January 29, 2020 10:24 AM
Hudson said diverse groups of people want to run for office, but that can sometimes lead to overcrowding in elections and a winning candidate who does not have much support, but who was able to eke out a win. She thinks this bill is the answer to that problem.
"It makes sure that we can have a leader who represents a broad swath of the community, no matter how many candidates run," Hudson said.
Ranked-choice voting is not new; at least 20 cities in the United States have adopted it. In 2018, Maine began using it for federal elections. Del. Patrick Hope, D-Arlington, is the chief co-patron for the bill.
"We have found that in other places where this is practiced, it leads to more positive campaigns," Hope said. "It means that candidates are working, so if they can't be a voters' first choice, they can be their second choice, and not the negative campaigning that we've seen lately."
"I think any way that we can run elections that provide more information, more access to voters in manners that get them more engaged, the better off our our democratic process is," he said.
HB 1103 reported out of subcommittee, 4-3. Delegates voting yes include: Kelly Convirs-Fowler, D-Virginia Beach; Mark Levine, D-Alexandria; Marcia Price, D-Newport News and Marcus Simon, D-Fairfax.
Delegates voting no include: Dawn M. Adams, D- Richmond; Les Adams, R-Pittsylvania and Chris Runion, R-Augusta.
The bill will now move to the House Committee on Privileges and Elections, which meets Friday.
---
Tuesday, January 28, 2020 12:42 PM
This year, one lawmaker whose House district includes hundreds of government employees wants to make that idea permanent, giving qualifying renters and homeowners the same extension any time there's a shutdown that lasts at least 14 days.
"We hope that it doesn't happen, but just in case in does," said Del. Cia Price, D-Newport News, whose bill would give anyone who's taken to court for unpaid rent an extra 60 days to pay.
It would also give homeowners who are federal employees themselves — or rent out their properties to tenants who are — an additional 30 days to pay their mortgages.
One national survey of about 350 federal workers found that during last year's government shutdown — when about 800,000 people went without paychecks — nearly half of respondents said they missed a bill payment, and 27% said they missed a mortgage or rent payment.
Another survey found that 16% of the 500 federal workers who were contacted said they'd missed a mortgage or rent payment during the shutdown.
---
Saturday, January 25, 2020 5:17 PM
Officers, law enforcement officials, Navy members, and other mourners lined the driveway of the medical examiner's office as the procession began. The route included part of Interstate 664 North. The procession paused briefly at Newport News Police Department's South Precinct, located at 3303 Jefferson Avenue, where Thyne was assigned. "Officer Katie was one of the many that are getting it right," said Newport News Delegate Marcia Price. Supporters lined the streets out front of the South Precinct. Delegate Price said the amount of people who showed up to stand with the Newport News Police Department speaks volumes. "We have no idea what the loss is to them, but we definitely stand with them in that and her family," Delegate Price said. Captain Jason Bollhorst only worked with Officer Thyne for a short time, but said her talent was evident. "Just seeing her work product at my level, my nickname for her was the 'pit bull'," Captain Bollhorst said. "She was out their getting into things and just a great proactive officer." He said the loss cuts even deeper because the last end of watch call in Newport News was 26 years ago.
---
Friday, January 24, 2020 1:00 PM
Del. Cia Price, D-Newport News, right, confers with Secretary of Public Safety and Homeland Security Brian Moran, left, as a number of gun-related bills were being presented to the House Public Safety committee meeting inside the Pocahontas Building in Richmond, VA Friday, Jan. 24, 2020. Her bill, HB421, dealing with firearms and ammunition possession being regulated by localities passed 12-9 on a party-line vote. Photo by Bob Brown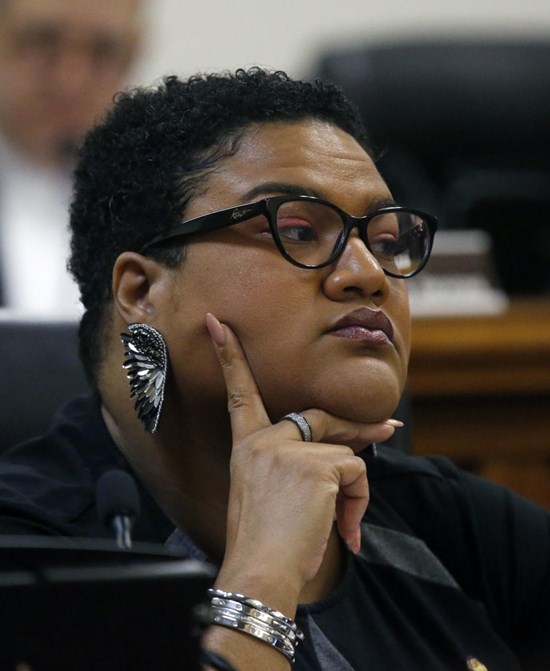 Del. Cia Price, D-Newport News, listened to a number of gun bills being presented to the House Public Safety committee meeting inside the Pocahontas Building in Richmond, VA Friday, Jan. 24, 2020. Her bill, HB421, dealing with firearms and ammunition possession being regulated by localities passed 12-9 on a party-line vote. Photo by Bob Brown
---
Thursday, January 23, 2020 12:00 AM
Some of Virginia's outdated laws are from the bad old days of Jim Crow, like the one that allows domestic servants to be paid less than the minimum wage.
Delegate Cia Price has a bill that would overturn that exemption.
"Domestic workers have hard jobs as home healthcare workers, nannies, house cleaners and cooks," Price explains. "And their work really allows for other people to do their work. So it's foundational to our economy really being able to run, and they should be fairly compensated."
Price's bill is a follow up to an effort last year that overturned Jim Crow era exemptions to the minimum wage for shoeshine boys, ushers and doormen.
---
Tuesday, January 21, 2020 12:00 AM
Del. Cia Price, D-Newport News, suggested a compromise on another bill that would allow localities to regulate guns in government buildings, public parks and during publicly permitted events like farmers' markets. A version of that bill that passed in the Senate gives localities the option to provide security measures, like metal detectors or police officers, if they choose to ban guns.
---
Tuesday, January 21, 2020 12:00 AM
The subcommittee voted 6-2 to table the bills as Democrats were joined by first-term Del. Carrie Coyner, R-Chesterfield. But several lawmakers said they'd continue to work on a possible solution as the session progresses, possibly by amending a separate bill giving local governments power to restrict firearms in public buildings.
"We're open to having that conversation as a compromise," said Del. Cia Price, D-Newport News.
Coyner said that, as a former county supervisor, she couldn't agree with the exact text of the bills. But she voiced support for the concept generally, saying the risk of lawsuits can be a powerful motivator for local governments to act.
Another bill requiring local governments to allow employees to bring concealed handguns to work, as long as they have a permit, failed 5-3.
---
Monday, January 20, 2020 6:28 PM
The Martin Luther King Jr. Day of Service food drive saw no shortage of donations and volunteers, from people in the community and Hampton University students to local and state leaders like Newport News Mayor McKinley Price, Delegate Marcia Price and Newport News Sheriff Gabe Morgan.
"There are people in need and this day brings us together," Price said.
"The fact that so many groups come together is emblematic of King's dream," Morgan said.
---
Thursday, January 16, 2020 12:00 AM
One of the house bills considered, H.B. 965, was incorporated into another bill under consideration, H.B. 277, via a voice vote.
This bill, patroned by Del. Marcia Price, D-Newport News, would expand community service options as a means of working off court fines and costs. Current law only permits a person to work off these costs before or after incarceration. This legislation would allow a person to work off those costs with community service while they are in jail.
Del. Terry Kilgore, R-Gate City, who had sponsored H.B. 965, said that the incorporated bill "not only helps the offender, but also helps the community."
---
Wednesday, January 15, 2020 4:04 PM
Redistricting Press Conference
Del. Price held a press conference on January 14, 2020 to discuss HB 1256 to establish a Virginia Independent Redistricting Commission which would include explicit language to ensure diversity on the commission, protect communities of color, and prioritize public input and transparency. She argued that true redistricting reform must include communities of color fully and equally. See video from the press conference below.
---
Wednesday, January 15, 2020 12:00 AM
At a press conference on Tuesday, Del. Marcia Price (D-Newport News) laid out a proposal for a citizen redistricting committee that would draw new Congressional and legislative districts every ten years. She said it would prioritize including communities of color throughout the redistricting process.
"I would like to end racial and political gerrymandering and get to fair community-based maps," Price said.
(Click for full article)
---
Tuesday, January 14, 2020 12:00 AM
Delegate Cia Price of Newport News says she and other Democrats raised concerns about the amendment last year.
"We wanted to make sure that the diversity of the commission was in the language," Price explains. "We wanted to make sure that the drawing process of the maps that would protect communities of color and communities of interest are in the amendment."
That's why she's introducing her own bill that would create a bipartisan commission she says would have all those protections.
---
Sunday, January 12, 2020 12:00 AM
When the new student loan ombudsman, a former career counselor named Scott Kemp, spoke to The Virginian-Pilot in early January, the number of borrowers he'd worked with was up to more than 160.
Kemp's position was created through a bill that passed in 2018, introduced by Del. Marcia Price, D-Newport News, and Sen. Janet Howell, D-Fairfax. Student loan debt is an issue Price has been trying to tackle since she was first elected to the 95th District in 2017.
The same year her ombudsman bill passed, she tried to create a 10-member student loan authority that would help students who went to Virginia colleges refinance. The bill was killed on a party-line vote in a subcommittee meeting.
This year, she's supporting a bill by Del. Marcus Simon, D-Falls Church, that creates a "borrower's bill of rights" with a list of consumer protections that holds lenders accountable, Simon said. It would require lenders to be licensed in Virginia
---
Wednesday, January 8, 2020 6:12 PM
Local lawmakers lay out priorities for Virginia General Assembly session
---
Tuesday, January 7, 2020 2:18 PM
Del. Marcia Price, D-Newport News, is proposing (HB 423) a new Gun Violence Survivor Assistance Fund and Grant Program, to provide financial assistance to victims of gun violence who need to update their homes to deal with a gun-caused disability. She's also proposing a 30-day stay of eviction and foreclosure proceedings for Virginians caught short by a federal government furlough. (HB 340). (click for full article)
---
Wednesday, September 11, 2019 12:00 AM
Delegate Cia Price of Hampton Roads says lawmakers in Richmond should also be thinking about reparations, even if money isn't involved. "Whether it's in the code, whether it's in funding models for education, whether it's obstacles to the ballot box, there are reparations we can do through policy changes that we need to do immediately."
---
Thursday, September 5, 2019 1:47 PM
95th District Updated Forecast, Closings, and Resources for #Hampton and #NewportNews in preparation for #HurricaneDorian
See our latest email update - which includes a CAUTION for Zone A!


---
Wednesday, September 4, 2019 11:24 PM
---
Wednesday, September 4, 2019 5:51 AM
Hurricane Prep Conference Call
Join Del. Price along with state and local officials to discuss the updates on Hurricane Dorian, possible impact to the Peninsula, how to prepare now, and how to stay prepared for the whole Hurricane Season!
The call will start at 1:00pm sharp. To join, dial 712-451-0801 and use access code 310655#
To share this with others, please see: https://mailchi.mp/house/hurricane-dorian-updates
---
Tuesday, September 3, 2019 12:00 AM
The Commission will review the Virginia Acts of Assembly, Code of Virginia, and administrative regulations to identify and make recommendations to address laws that were intended to or could have the effect of promoting or enabling racial discrimination or inequity.
The new commission was inspired by Senator Lionel Spruill and Delegate Marcia Price on Senate Bill 1079 and House Bill 2473. It encouraged the commission's mission to identify similar remainders of racially discriminatory language on Virginia's books.
This Commission is part of the Northam administration's ongoing work to right historical inequities in areas like education, healthcare, and access to business opportunities.
---
Sunday, August 25, 2019 12:00 AM
The commission heard legislators present dozens of bills proposing ideas such as banning assault rifles and high-capacity magazines, giving localities the authority to regulate guns and requiring people to report lost or stolen firearms within 24 hours.
Del. Cia Price, D-Newport News, got emotional while speaking to the commission about representing an area where gun violence is common.
"Not one more Virginian needs to lose their life to gun violence for us to acknowledge we have a problem," she said. "I know that. I live that."
Among her proposals is allocating grants for community assessments for youth and gang prevention in cities including Roanoke.
"I know legislation alone is not going to end gun violence, but we must each play our role, and my role is legislator," Price said.
---
Thursday, August 22, 2019 5:39 PM
At Delegate Marcia Price's 'Our Future Matters' Camp, students learn about leadership skills, possible careers and how to make changes in their community. The program lasts for two weeks.
---
Wednesday, August 21, 2019 12:00 AM
Delegate Marcia Price delivers an impassioned speech to the Virginia Crime Commission Tuesday August 20, 2019 in Richmond.
---
Tuesday, August 20, 2019 12:00 AM
The Virginia General Assembly met for a Special Session on Gun Violence on July 9, 2019. There, the leadership decided to shut down debate, table the bills, and send them to the Crime Commission. The Crime Commission met yesterday and will continue today.
This has been a sad and scary summer for Newport News and other parts of Hampton Roads. Unfortunately, we in the 95th District are no strangers to the effects of gun violence. Whether because of domestic violence, youth violence, or gang violence, we know something must be done. Today, I will join my colleagues in presenting bills before the Crime Commission and making the case that we have an issue and we need to do something about it to save lives. We in #757 deserve safe places to live, work, and play without fear of gun violence. I'm going to do my part and I need you to do yours.
(Click to read more)
---
Sunday, August 18, 2019 12:00 AM
Democrat Marcia "Cia" Price, who succeeded BaCote's mother as the 95th District delegate, has a bill she thinks could help some of those youth programs be successful.
Modeled after her uncle U.S. Rep. Bobby Scott's Youth PROMISE (Prison Reduction through Opportunities, Mentoring, Intervention, Support, and Education) Act, the bill would fund "community assessments" in Hampton, Newport News, Norfolk, Richmond, and Roanoke to see what's working to prevent youth and gang violence, and what's not working.
Each of those localities — chosen, Price said Tuesday, because they experience a disproportionate amount of gun violence — would get $25,000 for these assessments, paid for through surplus general fund revenues.
She also wants the state's auditing commission to study the social, physical, emotional, and economic effects of gun violence in Virginia.
"I would like to study the people," she said. "Why they are shooting, the radiating effects, the number of lives impacted, number of dollars spent. I think we will be able to see that it is an issue."
She'll be at the meeting Tuesday pitching her bills in the hopes commissioners will recommend them to more state lawmakers, but they won't all be back in Richmond to consider them until Nov. 18. The Crime Commission is scheduled to finalize a report on its recommendations after Nov. 12.
---
Saturday, July 13, 2019 12:53 AM
---
Friday, July 12, 2019 11:16 PM
---
Friday, July 12, 2019 7:34 PM
---
Tuesday, July 9, 2019 6:30 PM
---
Monday, July 8, 2019 10:32 PM
At today's round table discussion Congressman Bobby Scott laid the foundation for leaders in the community to speak about what should change for gun prevention.
Delegate Marcia Price says we can't do that without hearing from every perspective
"It is important to hear from all angles of it, and I know that I've talked with families that have been victims of gun violence, I've talked with experts," said Price
But the one perspective not everyone expected was from a Newport News man, James Braxton

"I'm speaking on behalf of someone who has contributed to gun violence in my community. Some of these fights and these shootings that happened back in the day — that was us," explained Braxton.
He now works with a group called RISE for Youth, and made it his mission for his voice to be heard today.
"If you want to understand the solutions to gun violence, first of all you have to have people on the panel that have contributed to gun violence. Unless you talk to us and ask why we picked up that gun and fired it, you're not going to know," Braxton said.
The panel comprised of law enforcement, delegates and social leaders talked about mental health, background checks, previous convictions and domestic violence, but even Price said on Monday she saw there is always room at the table.
"We were called out on not having involved some of the people that have previously committed crimes with guns and I look forward to have already reached out so that we can hear some of those voices," Price said.
Scott says everything they heard today they've heard before it is just a matter of moving forward with progress on things like background checks and assault weapon bans.
---
Monday, July 8, 2019 4:20 PM
Currently, state law largely prevents localities from regulating where firearms are carried, and only courthouses are gun-free. A state law already bans suppressors, bump stocks and magazines that hold more than 20 rounds of ammunition in large cities like Virginia Beach.
Norment's bill would also ban suppressors and "ammunition designed for use with a dangerous weapon." It also increases the punishment from a Class 1 misdemeanor to a Class 6 felony, punishable by one to five years in jail or a $2,500 fine.
Law enforcement, magistrates, court officers, judges, treasurers and commissioners of the Virginia Workers' Compensation Commission are excluded.
With Northam's support, Del. Cia Price, D-Newport News, and Sen. John Edwards, D-Roanoke, filed a bill that would give local governments the power to regulate guns, including in public buildings and parks and permitted events. But Norment's proposal doesn't give localities a choice about whether to allow guns in government buildings.
In an emailed statement, Norment focused on the increased punishment in his bill, rather than the expansion of the ban.
---
Monday, July 8, 2019 4:00 PM
Scott said he and the Democratic Gun Violence Task Force he serves on have come up with a list of recommendations to address gun violence.
These include an assault weapons ban, implementing a magazine limitation, establishing universal background checks, giving more money to mental health services and reducing crime generally.
"There's no one solution," Scott said after the meeting.
He said he believed the topics covered in the discussion were consistent with what the task force recommended.
Del. Marcia Price said she's one of few delegates who's awoken by gunfire at night and chooses her way home based on what she's seen in the news.
In introductions, she emphasized that it didn't take the shooting in Virginia Beach for her to realize there was a problem with gun violence.
"Before the map was redrawn, most of the shootings in the city were happening in the 95th district," Price said. "And it is very humbling to sit as an elected official for my area and know that I can't fix it.
"Because no matter what bills we pass, legislation will not stop gun violence. It will take all of us working together to work on what's really causing it."

Price said she's ready to step up for the issue at the special session. She'll carry one of eight proposals the governor has put together, she said, and for the fifth time she'll propose a bill that'll let localities determine their ordinances on gun violence.
(Click for full story)
---
Monday, July 8, 2019 1:10 PM
As Scott's town hall was breaking up, Del. Marcia Price, D-Newport News, asked for odds on a Northam measure she's backing — a bill that would let city councils and county boards of supervisors enact ordinances regulating possession and carrying of firearms — shrugged and says it all depends on the resolution setting the rules for the special sessions.

Normally, those rules are the same as for a regular session. Specifically, that bills go to a committee — in the House, to a subcommittee — that votes on whether to recommend a measure or to kill it. In the House, when the five or so members of a subcommittee kill a bill, that's pretty much it, though in theory it is possible for the full committee to consider a measure.Thanks to a couple of House subcommittees, gun control measures just don't make it to the floor.
---
Sunday, July 7, 2019 12:00 AM
Northam's wish list includes universal background checks; a ban on assault weapons, which would include suppressors and bump stocks; an extreme risk protection or red flag law; reinstating Virginia's one-handgun-a-month law; child access protection measures; required reporting of lost or stolen firearms and giving municipalities the power to regulate firearms in government buildings.
• The red flag bill would allow judges or magistrates to bar people who appear to be in danger of hurting themselves or others from keeping or purchasing guns for 14 days. Law enforcement would hold any weapons the subject of the order owned. The order would have to be based on a history of violence and supported by an investigation by police. The subject could file a motion to dismiss the order at any point during those 14 days and the court could extend the order to six months.
• Cities, counties and towns would be able decide whether to regulate firearms in local government buildings.
• In the last session, the legislation to require background checks for most gun transactions included exemptions for a number of situations, including sales between family members or antique guns. Under current law, background checks are only required for transactions with federally licensed firearms dealers. Private sellers — including vendors at gun shows who aren't federally licensed — have the option of conducting a background check through the state police, but it is not required.
• The bill to ban gun magazines that hold more than 10 rounds of ammunition in the past session defined an "assault firearm" as any gun that holds more than 10 rounds of ammunition. A separate bill would have banned bump stocks. (A national ban on bump stocks, which were used in the Las Vegas massacre and enable semi-automatic weapons to increase their rate of fire, went into effect in March)
• The one-handgun-a-month bill reinstates a 1993 law championed by former Democratic Gov. Doug Wilder. Republican Gov. Bob McDonnell signed the repeal of the law in 2012. Since then, Democrats have tried but failed to pass it again. Under the failed proposal, anyone purchasing more than one gun a month could do so after getting an "enhanced background check."
• Gun owners would be required to report a lost or stolen weapon within 24 hours of realizing it was gone. (Here's a bill on the issue that failed from the 2018 session). Law enforcement would report it to the National Crime Information Center. The legislation provided immunity for people who report the lost or stolen weapon if the weapon is used in a crime.
• Leaving a loaded gun around children under 18 would become a Class 6 felony according to a bill filed in the past session— the lowest level felony punishable by one to five years in jail or some jail time with a $2,500 fine. Right now leaving a loaded gun around a child under 14 is a misdemeanor charge.
• Del. Cia Price, D-Newport News, filed a bill Sunday that would allow localities to adopt regulations around possessing, storing, carrying and transporting guns.
• One of Northam's proposals wasn't introduced in the regular session. Right now, only subjects of "family abuse" protective orders are prohibited from having a gun. Northam wants to block all subjects of protective orders from possessing firearms, which can include people accused of stalking, harassment and other non-physical intimidation or violence.
---
Thursday, May 23, 2019 8:57 AM
Stolen Shoes & Second Chances - May Newsletter
Did you receive our May Newsletter? If not, you can view it here: http://bit.ly/95thMayNewsletter
Be sure to click subscribe to receive future updates!
---
Tuesday, May 21, 2019 5:30 PM
Now, Price is hoping to turn her experience into a positive and is encouraging people to donate clothes and shoes. "Those of us who may have a little extra - we get busy in our day-to-day lives and the things that we have in the back of our closets can be a huge impact to people," she said.
Organizers of Tori's Closet say shoes are very popular items. People can come by on Tuesdays and Wednesdays from 10 a.m. -1 p.m. to collect the clothing for free. All they need to submit is their names.
People wishing to donate can stop by the center weekdays from 8 a.m. - 5 p.m.
"I was imagining what these people might look like if they're going off to their new job or they might be going off to a special event and they needed these shoes," she said.
---
Monday, May 20, 2019 10:37 PM
While she was in Richmond for a conference this weekend, someone smashed her window and broke into her car.
"I checked, and they stole food that I had for a youth group. They also stole some shoes that I had gotten together for a donation," she said.
Delegate Price said she didn't want that to stop her from still donating to help those who go to Tori's Closet, so, she asked others to help donate clothes.
"Once I posted it on Facebook, I had an outpouring of love from all over Hampton Roads, all over Virginia. Some of my college friends from Atlanta and New York wanted to see how they could help," said Delegate Price.
As the donations come in, she said she's reminded that there are many who are in need, and she hopes the kindness of others can make a difference.
---
Friday, April 12, 2019 10:05 AM
From the Shad Plank News Blog: What then, one audience member asked, can Virginians do about the blow the state suffered from the scandal?
And here, Del. Marcia "Cia" Price, D-Newport News, spoke up, following up on an earlier comment that Virginia needed to do some real work on reconciliation — work, she said, that means recognizing racial and economic inequities and committing to redressing them.
"We have to say: 'we're not afraid to talk about these things, because we are Virginia,'" she said.
---
Thursday, April 11, 2019 12:00 AM
Del. Cia Price, D-Newport News, was one of the most vocal supporters of state funding for census outreach. She spoke about the importance of counting every resident of Virginia several times on the House of Delegates floor and cited "non-return" rates of 2010 census surveys in Hampton Roads, which includes many of the state's largest cities.
Non-return rates track the number of people who don't respond to the initial census survey mailed to them. The census follows up with those people in other ways to make sure they are included in the final count, so it shows how many people needed outreach for census participation, Price said on Twitter.
According to census data, Norfolk had a 29 percent non-return rate, meaning roughly 68,000 people there didn't respond to the first survey mailed to them for the 2010 census. Newport News, where Price's father presides as mayor, had a 26 percent non-return rate.
At the bottom of return rates was Highland County, where 47 percent of residents didn't return a survey. Bland and King and Queen counties had the state's highest return rates at 85 and 86 percent, respectively.
"The @uscensusbureau is WAY behind on staffing and prep for the upcoming census," Price tweeted a few weeks before the General Assembly reconvened to consider Northam's vetos and budget rewrites. "We have to look out for ourselves. VA can do that by funding outreach to make sure there is a complete count in our Commonwealth."
---
Tuesday, April 9, 2019 12:00 AM
Laws can be read to help understand the community mores and values of the past. This session saw a meaningful number of bills passed that reflect a cleaning-up of the Code to reflect changing community values. Some of these include repealing remnants of Jim Crow laws of racial oppression of the past. Thanks to Delegate Marcia Price and Senator Lionell Spruill, the provisions in Code that exempted Virginia's minimum wage requirements for newsboys, shoe-shine boys, babysitters who work 10 hours or more per week, ushers, doormen, concession attendants, and cashiers in theaters, all of which were occupations that were most likely held by African Americans, were repealed. The old law made it legal to discriminate through wages. A new law will require employers to provide pay stubs as a way to assist low-wage workers to manage their money and be treated fairly.
---
Thursday, March 14, 2019 8:27 AM
Sips & Signatures
---
Monday, March 4, 2019 10:28 PM
Welcome Back Party
Let's welcome home Delegate Price as she has returned from the 2019 Legislative Session! Come hear more about session, sign her petitions, and sign up for her campaign! Come anytime between 4:30p-8:00p!
---
Monday, February 25, 2019 12:00 AM
Del. Cia Price, D-Newport News, said she was disappointed to see there was only a mention of the Voting Rights Act, not language from the federal law. She voted no on the measure.
"If the Voting Rights Act is gutted, this mention wouldn't offer the protection the Voting Rights Act does," she said.
She also didn't like language that says "districts shall provide, where practicable, opportunities for racial and ethnic communities to elect candidates of their choice."
"I just don't think that racial fairness … minority fairness, cultural fairness should be parenthetical," she said.
House Democratic leaders said they have "great hope" the bill will stop the creation of unconstitutional voting districts in the state, but said their members who voted no on the bill had good reason to do so.
"This plan does not ensure any minority representation on the redistricting commission," House Democratic Leader Eileen Filler-Corn, D-Fairfax, and Caucus Chair Charniele Herring, D-Alexandria, said in a statement.
"If we are to take anything away from the Bethune-Hill case as well as the events of this legislative session, it is that our commonwealth must take greater strides toward achieving racial equity. Next year, it will be a top priority of our caucus to pass criteria that ensures minority representation on the redistricting commission."
---
Monday, February 25, 2019 12:00 AM
With race front-and-center during the General Assembly session that concluded Sunday, lawmakers approved a budget that fulfilled requests from black lawmakers to begin addressing inequities.
"Poverty is a commonwealth-wide conversation and it shouldn't be up to just the Virginia Legislative Black Caucus to discuss, it should be our collective responsibility," Del. Cia Price, D-Newport News, said on the House floor earlier this month when the body considered the now-passed tax plan. "Equality might feel good, might make us feel like we've accomplished something, but the real work of justice is equity."
"Systematic racism is real. Equity is not codifying policy that will keep people stuck."
Price said black lawmakers would make their demands in any year. But this year, budget negotiations came after a photo of people in blackface and in a Ku Klux Klan robe were found on the medical school yearbook page of Democratic Gov. Ralph Northam. He apologized for it, but later said he was sure he wasn't in the photo.
"I think it was a perfect storm for the silver lining of this Dumpster fire," Price said. "We did have this important conversation whether people wanted to or not."
---
Saturday, February 23, 2019 12:00 PM
Dels. Lashrecse Aird, D-Petersburg, and Marcia Price, D-Newport News, tweeted a video from the House floor during a recess to emphasize what they saw as the need for more time to review the budget and Republican inconsistency in how they enforce House rules. "We just had this whole conversation," Price said, as Aird added, "About rules matter!"

---
Saturday, February 23, 2019 12:00 AM
House Appropriations Chairman Chris Jones, R-Suffolk, the architect of the 2011 plan, said his party has made a concerted effort to promote African-American inclusion.
"Republicans have had more African-Americans on key committees than when the Democrats were in control," Jones said. He added that he still believes the General Assembly should have map-drawing power, but the compromise announced Saturday "takes as much of the politics out of it as can be."
Del. Marcia Price, D-Newport News, said it wasn't enough for her white colleagues to say they "do nice things for black people" while treating structural fairness for African-Americans as "optional."
The amendment states that the commission would have to draw lines that comport with all laws on "racial and ethnic fairness," including the Voting Rights Act and the U.S. Constitution's equal protection clause. But black lawmakers took exception to language that said districts should be drawn to allow minority communities to elect candidates of their choice "where practicable."
---
Friday, February 22, 2019 12:00 AM
"There hasn't been a deliberate effort to encourage minority women to step into this role (as elected officials)," said Del. Lashrecse Aird, D-Petersburg, the assistant director for development at Richard Bland College of William & Mary.
Del. Cia Price said women of color pick which battles to fight in the General Assembly and which ones to let go. Price, 38, a Democrat and fourth-generation resident of the Peninsula who lives in Newport News and directs a local nonprofit for community organizing, serves on six committees or subcommittees, and only one is chaired by a woman.
Price spoke out on the House floor earlier this month on a tax deal between Northam and Republican leaders, saying it didn't provide racial and economic equity. Members of the Virginia Legislative Black Caucus, who have called for Northam to resign, opposed the deal. Northam's negotiation from a position of weakness and inability to push for racial equity in the tax deal makes the scandal about more than just a photo, Price and Aird said.
Price and Aird, 32, both elected in 2015 and re-elected in 2017, said that even when women are rising in politics, there are always guards at the gates above them.
Among experiences they've had in the legislature: In the old General Assembly Building, both were repeatedly asked to show their badges when they had their delegate pins on, even when they were walking in the building alongside male lawmakers who were not asked to show their badges.
Male and female lawmakers of both parties and lobbyists mix them up, they said. "There are so many examples of people leaving things on my desk thinking it's Del. Price or people coming up to me thinking it's her," Aird said.
Said Price: "We have to be intentional about every single detail. We have to be excellent in every single moment. And they don't even have to learn our names."
Members of the Black Caucus like Aird and Price, who were not previously taken seriously in their own positions of power, are now being asked to help Northam.
"The idea that African-Americans have to pick up the banner to teach white people how to not have white privilege is white privilege," Price said. "I am standing within a power structure that tells me I should not be here, but because of my power with the position, I am being asked to clean up someone else's mess."
---
Wednesday, February 20, 2019 12:00 AM
That's why Girl Scouts of the Colonial Coast (GSCCC) joins other councils who serve girls in Virginia to host the Virginia Girl Scout Legislative Day in Richmond, Virginia annually. Select members that include Chief Executive Officers (CEOs) and Board Chairs, along with girls on leadership tracks, travel to meet with legislators and share information from our legislative agenda. Our goal is to have Girl Scouts viewed as the expert on girl policy issues and bring attention to the need for: increased girls' involvement in science, technology, engineering and math (STEM), strengthening of girls' entrepreneurial and financial literacy skills, expanded access to outdoor experiences and ways to prevent relational aggression, and improved ways to build healthy communications within our schools and communities.
---
Monday, February 18, 2019 12:00 AM
Last week, the House of Delegates took a final vote on a tax cut bill. In another year, it might have been a wonky discussion centered on standard deductions and tax brackets.
This year -- the year of a blackface scandal that has ensnared Governor Ralph Northam and Attorney General Mark Herring -- it was also about race.
Democratic Delegate Marcia Price was among the half dozen members of the Virginia Legislative Black Caucus who spoke out against the Republican-authored bill. She said it wasn't enough to condemn Northam and Herring and go back to business.
"We were sent here to legislate," she said. "And so right now, our first step that we can take towards true racial equity is to vote 'no' on this bill."
Price voted against the bill, but several of her colleagues eventually relented after they pushed Republican leaders for more funding in the budget for other priorities, like eviction diversion programs and high poverty schools.
For the black caucus, it's the start of a long-overdue discussion about how policies in the General Assembly affect minority communities.
At a press conference last week, Delegate Jeff Bourne (D-Richmond) challenged lawmakers who'd spoken out against racism to put funding behind their rhetoric.
"I think what the last two weeks have crystalized for us is the need for us to have some real conversation and put some real action behind our words when we talk about equity," he said. "And when we talk about equality."
Northam included funding for high-poverty schools in his budget and has vowed to fight for racial equity in lieu of heeding calls to resign. But the black caucus still needs to win over House Republicans like Delegate Chris Jones (R-Suffolk) who leads that group in budget negotiations.
Jones says he'll consider ways to fund the black caucus' priorities. But he says he was elected to serve the whole state, and isn't specifically looking at racial equity when he writes the budget.
"We look at good public policy, is what we look at," Jones says.
---
Saturday, February 16, 2019 12:00 AM
The events of the past two weeks have sparked difficult conversations in Democratic circles about how to move forward, exposing divisions along lines of age, race, and gender.
"It is hard to hear that we stand for women, and we stand for racial equity, when there are mixed messages coming from the leadership of the party," said Del. Marcia Price, the secretary for the Virginia Legislative Black Caucus.
Price said black women are touched by all of those issues and should be at the center of these discussions.
"I really think it's an important time to amplify the voices of black women, because we have the perspective where all of these things are hitting," she said.
Rodgers, with Virginia Young Democrats, said the party must develop diverse leaders well before there's another crisis.
---
Friday, February 15, 2019 12:00 AM
Del. Price answers questions about the 2019 Legislative Session, take a look.
---
Friday, February 15, 2019 12:00 AM
Governor Ralph Northam signed tax legislation on Friday that includes a nearly $1 billion tax cut and clears the way for the state to begin processing tax returns.
The bill marks a departure from Northam's initial budget proposal. That plan, which was rolled out before the governor became embroiled in a scandal over blackface, called for the state to keep most of a $1.2 billion windfall caused by President Trump's Tax Cuts and Jobs Act.
The bill he ended up signing includes tax rebates of $110 for individual filers and $220 for married couples. It raises the standard deduction by fifty percent beginning in tax year 2019.
Several black lawmakers in the House of Delegates spoke out against the tax cut earlier this week, saying it didn't do enough to help low-income minorities.
"Systemic racism is real," said Del. Marcia Price (D-Hampton ). "Equity is not codifying tax policy that would perpetuate large percentages of communities of color being stuck in impoverished situations."
Republicans said the plan provided broad tax relief, including to those groups. Price voted against the bill, but other members of the Legislative Black Caucus eventually switched their vote after Republicans said they would consider increasing budget spending on education, eviction prevention, and other priorities of the caucus. (Click for full article)
---
Tuesday, February 12, 2019 3:20 PM
Del. Cia Price, D-Newport News, introduced a bill in 2017 that would expedite the testing of bodily fluids when first responders may have been exposed to HIV or Hepatitis B or C.
The first version of the legislation two years ago would have allowed the testing to be ordered by a magistrate, who is available around the clock and has several duties, including the issuance of arrest warrants, summonses, bonds, search warrants and subpoenas.

This year, Price went another route — through the General District Court.
The bill, which passed both the House and Senate last week, requires a general district court to hold a hearing within 48 hours of a petition being filed to test a blood sample. If the court finds probable cause to believe someone like McClain was exposed to a transmitted disease, the judge can order the person whose bodily fluids were involved to provide a blood sample or submit to testing.
That person can still appeal the order to Circuit Court with 10 days, and any testing done can't be used as criminal evidence against someone.
"This is important legislation towards keeping our first responders safe and healthy as they remain committed to protect the public." Hampton Police Chief Terry Sult said in an email.
Price's bill now heads to the governor's desk.
---
Tuesday, February 12, 2019 12:00 AM
"We are selling out the people who need us the most, and I have a problem with that," Del. Jennifer Carroll Foy, D-Prince William, said during floor debate on the tax deal.
She and other black lawmakers voted against it, taking Democratic leaders by surprise. In the end, the Black Caucus met with Republicans and won agreements to put money back into some of those budget areas in return for supporting the tax plan.
But it was messy, and the agreements are just promises. And it was unclear whether Republicans were able to scuttle Northam's original budget proposal because he was weakened by scandal. The black lawmakers say they are looking for signs that Northam - and, to a lesser extent, Fairfax - can continue to govern and get things done.
"Just to let folks know, I'm still watching," Del. Marcia S. "Cia" Price, D-Newport News, said after Monday's tax votes. She's a member of the Black Caucus and served as campaign chair when Northam ran for governor in 2017, but she has called for him to resign. "I'm still looking for true reforms that impact working families." (Click for full article)
---
Tuesday, February 12, 2019 12:00 AM
Members of the Black Caucus, who have called on Northam to step down, said the first test of the governor's rhetoric is the spending plan – the biggest legislation they face this year. And, they said, it doesn't measure up. Where Northam had initially proposed increasing the amount of Earned Income Tax Credit returned to low-income working families, the compromise deal eliminates that idea. The budget proposals tied to the package are stingier in many categories that affect low-income and minority communities – with cuts in school funding for at-risk students, for instance, and bigger cuts in school districts with large numbers of minority students than majority white districts. "Equity looks like taking a long and hard look at policies that we are passing and how it impacts all Virginians. Equity does not look like the deal before us," Del. Marcia Price, D-Newport News, said in a floor speech when the tax bill came up for a vote. "And there will be space for reconciliation talks, maybe even some kumbaya moments. . . . (But) right now, our first step that we can take towards true racial and economic equity is to vote no on this bill."

Read more at: https://la.epeak.in/?p=407079
---
Wednesday, February 6, 2019 12:00 AM
After Tuesday, all the bills left over in committee won't see the light of day. Here's the scorecard of what else has passed and what hasn't:
Criminal justice/Public Safety
SB1367, Sen. Tommy Norment, R-James City's bill that lets localities pass laws prohibiting the running at large of dogs in packs, passed Senate.
HB1998, Del. Cia Price's bill to require court-ordered testing if there's been an exchange of bodily fluids with law enforcement. Passed both House and Senate.
SB997/HB2079, decriminalization of marijuana, died in both chambers.
SB1341/HB1811, would make holding a phone while driving a finable offense, passed in respective chambers.
---
Tuesday, January 22, 2019 11:41 AM
Her mom, Danielle Bostick, who is a teacher herself, agreed. And she found a legislator, Del. Cia Price, D-Newport News, who said she'd take a look at Francesca's idea.
It made sense to Price, who filed a bill make Francesca's idea part of the law of Virginia.
And Francesca came to Richmond this week to help Price argue for the measure.
She told the criminal law subcommittee how school officials told her they worried about protecting the school from the disruption of knowing a student was subject to a protection order as a probation condition.
"What about protecting me?" she asked.
---
Thursday, January 17, 2019 12:00 AM
MLK Day of Service Food Drive | Jan. 21 | Newport News | 9 a.m to 1 p.m. | Virginia Peninsula Foodbank
Mayor McKinley Price, Delegate Marcia Price, Sheriff Gabe Morgan and others will be at the Foodbank to accept donations from the community. Citizens, organizations, churches, community groups, school groups, and others are encouraged to collect nonperishable food items.
---
Tuesday, January 15, 2019 12:57 AM
The reason: When a court issues such a protective order, it is only required to inform the school's principal. The buck stops there. The principal is not required to tell any of the pertinent personnel who regularly deal with the affected students — for instance, their teachers.

The result: A bill, inspired by this case, has been introduced in the General Assembly by a Newport News lawmaker that would require all critical personnel to be apprised of a protective order affecting two students at the same school.
The legislation makes sense. As Francesca's mother stated, the "notification is useless if it's kept a secret from teachers." They, to be sure, are, or should be, on a need-to-know basis. But there is where the buck should stop. Teachers should never allow this bit of information to become hot gossip around the school.
(Click for full OpEd)
---
Monday, January 14, 2019 12:00 AM
A bill filed in the House of Delegates by Del. Marcia "Cia" Price, D-Newport News, originated with the family of a former student at Handley High School.
If passed into law, House Bill 1997 would require school principals to inform all relevant personnel of a protective order issued in a case involving two students who attend the same school.
Currently, when a court issues such a protective order — one meant to protect one student from another — the court is then required to inform the school's principal. But, Price said on Thursday, there is no requirement for the principal to then inform the teachers of those students.

"The information typically stops [at the principal]," Price said. "It's important that it not stop there."
---
Friday, January 11, 2019 12:00 PM
Today, I want to highlight three really good bills that I will be co-patroning.
The first is a bill from Delegate Marcia Price (95th district) that adjusts the protocol of the Department of Emergency Management. Currently, in the Virginia Code there is no language that instructs the Department of Emergency Management to have a concrete plan to help those with limited English proficiency.
Delegate Price's bill states that the Department of Emergency Services shall develop an emergency response plan to address the needs of individuals with limited English proficiency in the event of a disaster. This includes interpretation services and the translation of documents.
I applaud Delegate Price for this critical piece of legislation which will no doubt save lives in the event of a natural disaster.
---
Friday, January 11, 2019 12:00 AM
The minimum wage does not apply to all workers, and Virginia law has several categories of workers who are exempt. Although, some lawmakers want to change that.

Newsboys. Shoe-shine boys. Ushers. Doormen. Concession attendants. Theater cashiers. Employers who hire people to fill these jobs are not required to pay the minimum wage.
Delegate Cia Price of Newport News says these exemptions have an unfortunate history.
"It was during the Jim Crow era, and so this is specifically historically racist language, part of our dark past that is still in the code of Virginia. And it's really time to get rid of that Jim Crow era language."
Those aren't the only exemptions. Virginia law also exempts people who get paid on the basis of the amount of work done.

Senator Janet Howell of Reston is introducing a bill to get rid of that exemption in honor of her mother, who was a union organizer who help organize piecework laborers.
"My mother would be very proud to have Virginia join every other state in guaranteeing that pieceworkers got the minimum wage."
Several lawmakers are introducing bills that would increase the minimum wage, although Republicans say those efforts have little chance of making it out of the GOP-controlled General Assembly.
Click for more!
---
Wednesday, January 9, 2019 7:00 PM
Four hundred years after Virginia lawmakers first met in Jamestown, the state's General Assembly gaveled in Wednesday, kicking off a time-pressed, 46-day session testing lawmakers' abilities to agree on what to do with a $1.2 billion federal tax windfall.our hundred years after Virginia lawmakers first met in Jamestown, the state's General Assembly gaveled in Wednesday, kicking off a time-pressed, 46-day session testing lawmakers' abilities to agree on what to do with a $1.2 billion federal tax windfall.
(Click for more coverage and photos from the day)
---
Wednesday, January 9, 2019 11:30 AM
At noon today, the 2019 Legislative Session begins. We will have 45 days to complete our legislative activity and it will go by fast. So please stay tuned and make sure you are letting us know your feedback throughout the process. I have included my legislative package of 14 bills and a House Joint Resolution that I will be focused on for the 2019 Session.

If you want to help support any of my proposed measures, please reply to this email! It's easy to stay abreast of what's happening here. You can start by finishing this Legislative Survey so I can see what's important to you. Then, look at the links below to help you navigate the happenings of the General Assembly. You can even click below to watch Session from wherever you are.

We represent you, make sure you're at the table.

Here's to a productive session focused on issues of justice, equity, and opportunity, and our work to improve the lives of all Virginians.
---
Saturday, December 29, 2018 4:21 PM
Del. Price Seeks Constituent Input
Del. Price continuously creates opportunities for her constituents to offer feedback and participate in the legislative process. She invites you to participate in the 2019 Pre-Session Legislative Survey. To complete, please click here!
---
Saturday, December 29, 2018 2:20 PM
Delegate Marcia "Cia" Price will host the 95th District Pre-Session Town Hall on January 6, 2019 at 3:00pm. The event will be held at the South Morrison Family Education Center in Newport News.
Del. Price and special guests will discuss four major issues facing the 95th District including economic justice, voting rights and access, women's health, and student loan reform. She and her team will also discuss major legislation heading into the 2019 Legislative Session and ways for residents to stay engaged in the process.
To register for this free event, please visit jan2019townhall.eventbrite.com
For more information, please email DelMPrice@house.virginia.gov and for press inquiries, please email DelegateMarciaPrice@gmail.com
---
Wednesday, October 17, 2018 4:40 PM
At a Newport News town hall event focused on redistricting Sunday, Del. Marcia "Cia" Price, D-Newport News, invited experts on the subject to explain how redistricting works, why it happens and the far-reaching impacts.
Virginia lawmakers are drafting new court-ordered maps for six majority African-American districts in Hampton Roads, which could bring major changes in the makeup of the House of Delegates. Price said the current maps pack in black voters, diminishing their voice on statewide issues.


---
Sunday, October 14, 2018 7:00 PM
Del. Marcia "Cia" Price, D-Newport News, reaffirmed her belief that several House of Delegates districts, including her own, needed to be redrawn to undo the packing in of black voters, a practice she said has diminished their voices.
Speaking at a town hall Sunday in Newport News, she also implored people to start thinking about the 2020 census and subsequent congressional redistricting and how they could get involved in that process.
Price also provided insight on the court-ordered redistricting of six majority African-American districts in Hampton Roads, which could bring major changes in the makeup of the House of Delegates.
---
Monday, October 1, 2018 11:00 AM
On this episode of Virginia Politics, we look at the reasons people aren't registering to vote. With a little more than a month until the Nov. 6 elections, we hear from organizers -- including Del. Cia Price, D-Newport News -- on their efforts to sign people up ahead of the Oct. 15 registration deadline.
---
Thursday, September 27, 2018 5:15 PM
On the Peninsula, Del. Cia Price, D-Newport News, said thousands of black voters were moved from her Democratic district to another Democratic district – the 93rd, held by Del. Mike Mullin – while bypassing the 94th district, held by Del. David Yancey, a Republican.
Yancey's Newport News district, which was so competitive the race came down to pulling the winner's name out of a bowl, remains unchanged under Jones' map.

"It's implying that you repacked (black voters) into Democratic districts," Price said after the meeting.
---
Wednesday, September 12, 2018 12:47 PM
Join us for a public conference call so that you can learn updated projections, resources available, the plans in place, and how you can protect yourself and your loved ones as we take this storm seriously.

We will hear from Mayor McKinley Price, Taylor Dillon with the VA Dept of Emergency Management, NN Emergency Preparedness Lead Interim Fire Chief Liebold, Hampton Communications rep Robin McCormick, NNPD Chief Drew, and Sheriff Gabe Morgan on important information you need to know.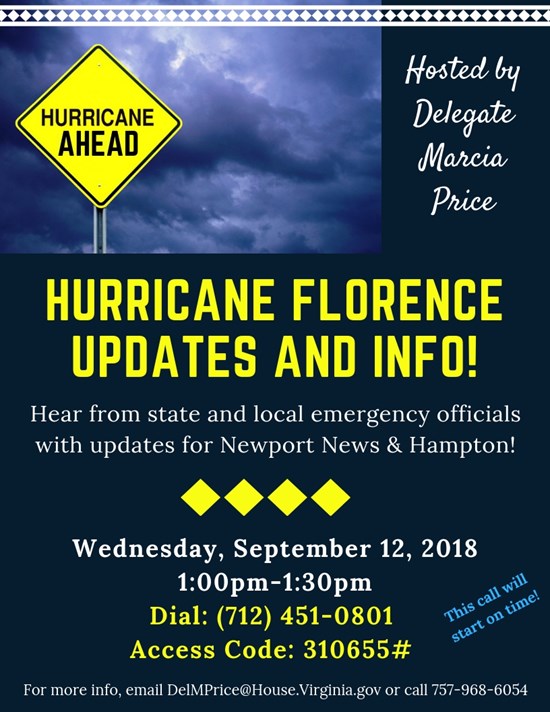 ---
Wednesday, September 12, 2018 6:15 AM
Hurricane Florence is still a threat to the Commonwealth of Virginia, including parts of Newport News and Hampton. We want you to have the most up-to-date information and hear directly from the emergency officials themselves.

Join us for a public conference call so that you can learn updated projections, resources available, the plans in place, and how you can protect yourself and your loved ones as we take this storm seriously.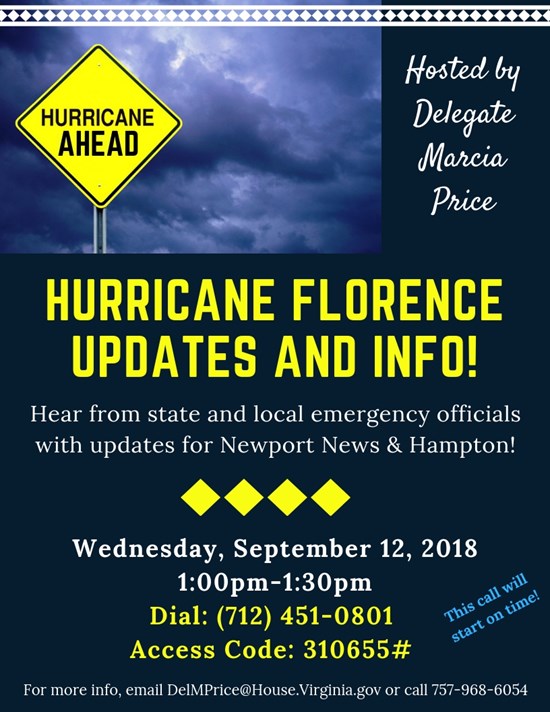 ---
Wednesday, September 12, 2018 12:00 AM
As Virginia and the Carolinas prepare for Florence, others around the country are sending their best wishes. They understand the difficulties some face in choosing to stay or leave. Thank you for thinking of us OxFam!
"Del. Marcia S. "Cia" Price talked to us about the challenges facing her constituents in Virginia. Some areas have poor public transport and shuttered shelters. Many families have no cash on hand (they can't afford transportation, hotels or restaurant meals), or have family members who can't be easily moved (elderly, disabled, ill). In some areas, people are maintaining farms, with animals and people in their care.
While the coastline features several wealthy beach communities, it also holds pockets of poverty and vulnerability. For example, the Sea Islands of South Carolina feature high poverty indicators, high percentages of elderly, and poor infrastructure. Tyrell and Hyde Counties in North Carolina are among the poorest counties in the state (98th and 100th out of 100) with elevations so low that high tides turn land into water. It's terrifying to consider what Hurricane Florence will do to the thousands of residents in these counties."
---
Tuesday, September 11, 2018 1:47 PM
Shelter Information:
Hampton Public Shelter Info - If you have no other alternative, the city shelters will open at 11 a.m. The first shelters to open will be atPhenix School, 1061 Big Bethel Rd, 23666. That will be designed for those with medical needs, as well as general population. Residents with pets can go to adjacent Bethel High School at 1067 Big Bethel Rd. (bring bedding, crates, food, etc.). If a resident needs transportation or assistance, call 311.
Newport News Public Shelter Info - The following shelters will open at noon tomorrow (Wednesday) for those who have no alternative. Residents without transportation to a shelter can call the 311 Center at (757) 933-2311 for options.
Denbigh High School – 259 Denbigh Boulevard – General Population
Menchville High School – 275 Menchville Road – Medically Dependent and General Population
Warwick High School – 51 Copeland Lane – General Population and Residents with Pets – Owners must remain at the shelter with their pets (no drop-offs). Animals must be in cages. Owners will be required to need to provide food, water are required for all pets.
Those without transportation to a shelter can call the 311 Center at (757) 933-2311 for options.
Click for full updates or visit www.delegatemarciaprice.com/hurricane
---
Monday, September 10, 2018 10:35 PM
On Saturday, Governor Northam declared a state of emergency for then Tropical Storm Florence. Since then, the storm has gained strength and is now upgraded to a Category 4 Hurricane. <<Click here to find out more about hurricane categories.>>

Earlier this afternoon, the Governor and his staff held a press conference to update the Commonwealth on projections, possibilities, and plans. At that time, he announced a MANDATORY EVACUATION for Zone A effective 8:00am on Tuesday, September 11th. This affects around 4500 people in Newport News and 19,000 households in Hampton. You can find your zone at www.KnowYourZoneVA.org to see if your address is affected. Please note that in Virginia, "mandatory evacuations" are more than just suggestions.
Click to read the full update.
---
Sunday, September 2, 2018 12:00 AM
Virginia frequently is rated as one of the best states for business, which is great news for employers. But unfortunately, being one of the best states for business does not translate into being one of the best states for workers.
Recently, Oxfam America released its Best States to Work Index and Virginia ranked last in the nation. The report is clear: Virginia must do better not just for the business community, but also for the hardworking people who work at those businesses every day. (Click for the full editorial)
----
Read OxFam's full report by clicking here.
---
Thursday, August 30, 2018 7:20 PM
"It's easier to criticize than it is to construct and the court offered the General Assembly the opportunity to remedy these unconstitutional, racially gerrymandered districts months ago," Northam said in a statement. "If Republicans are going to criticize the constitutional map offered by Democrats today, they should produce their own."
Bell said leadership and the Republican caucus have to decide the next best steps. Republicans had hoped for a stay on the federal court's order, but in its ruling, the U.S. District Court for the Eastern District of Virginia said delaying the 11-district redrawing until a possible ruling by the U.S. Supreme Court would mean the 2019 elections would likely be held under the current, unconstitutional map.
---
Thursday, August 30, 2018 9:00 AM
Read more about Special Session II called by Gov. Northam regarding redistricting, back to school information for Newport News and Hampton, new traffic laws, and more!
If you haven't already, be sure to click "Subscribe" to receive our updates directly.
---
Wednesday, August 29, 2018 7:20 PM
House Democrats proposed on Wednesday boundary changes for 29 House of Delegates districts as a federal court order hangs over Virginia to address racial gerrymandering.
The plan will be the main topic of discussion Thursday when delegates meet in Richmond for a special session to address the court's order. In June, a three-judge panel ruled that state lawmakers must draw new lines for 11 House districts — six of them in Hampton Roads — by Oct. 30.
Under Bagby's proposal, 18 of the 29 districts will lose between 8 and 8,625 black voters to other districts, according to an analysis from the Virginia Public Access Project. Eight Hampton Roads districts — the 77th, 80th, 81st, 82nd, 89th, 90th, 92nd and 95th — will lose black voters to surrounding districts. Six — the 76th, 79th, 83rd, 85th, 91st and 94th — will gain black voters, the analysis shows.
Del. Cliff Hayes, D-Chesapeake, would lose 8,625 black voters, the most of the affected 29 districts. Del. Marcia "Cia" Price, D-Newport News, represents the 95th District, which was also one of the 11 districts the court ordered to be redrawn. It's 63 percent black and would lose 6,225 black voters under Bagby's proposal.
"Any discomfort I may have in dealing with change is very minimal and minuscule to them getting a more just district and voters having more of a say," Price said.
---
Tuesday, June 26, 2018 1:29 PM
NEWPORT NEWS—Governor Ralph Northam today announced that the Commonwealth of Virginia is initiating a unique partnership with Huntington Ingalls Industries' (NYSE:HII) Newport News Shipbuilding division to support a major hiring initiative. Newport News Shipbuilding anticipates hiring almost 7,000 people, including the creation of 2,000 new jobs, in the City of Newport News over the next five years. "Newport News Shipbuilding's success is important not just for Hampton Roads, but for the entire Commonwealth. Therefore, it is critical that we support growth of this magnitude with an innovative partnership between state agencies that will address the company's workforce and training needs and supply a pipeline of skilled talent," said Governor Northam. "We have a responsibility as a Commonwealth to ensure that every single one of these jobs gets filled with a skilled and trained Virginian who is ready to succeed. One of my highest priorities as Governor is to provide workforce solutions that connect Virginians to the skills, training, and opportunities required to meet companies' needs in high-demand sectors. I thank Huntington Ingalls Industries and Newport News Shipbuilding for its long-term commitment to the Commonwealth, and applaud all the state partners involved in this groundbreaking initiative." "Newport News Shipbuilding is an asset to the 95th District, the Commonwealth, and the nation," said Delegate Marcia Price. "I welcome this growth and this type of innovative approach to fill the positions, as the collaborative partnership will help find and build talent that will continue the legacy of excellence at the shipyard. Virginia is open for business and Newport News is a great location to live and work."
---
Friday, June 22, 2018 11:29 PM
NEWPORT NEWS, Va. (WVEC) -- Student loans can be hard to navigate, but Friday Governor Northam signed House Bill 1138 into law which will make it easier for students to understand the repayment process.
Delegate Marcia Price originally introduced the bill.
"Virginia borrowers from Virginia student loans can go get information, get an education, and refreshed on the rules of repayment, and also be able to get some help if there are any complaints or disputes," said Price.
Price said the bill establishes the Office of the Qualified Education Loan Ombudsman, where counselors won't have an agenda. Borrowers can talk with counselors about what the best repayment plan is for them.
"Not making money off of you, so it is really unbiased information, and kind of help you weigh out which repayment option is best for you, and your financial security," said Price. (Click for full story)
---
Friday, June 22, 2018 7:00 PM
NEWPORT NEWS, VA - Today, Delegate Marcia Price (D-95th) joined Governor Ralph Northam for the ceremonial bill signing of House Bill 1138, which creates the Office of the Qualified Education Loan Ombudsman within the State Council of Higher Education for Virginia (SCHEV). The ceremony was held at the Boys and Girls Club on Thorncliff Drive in the 95th District. In attendance were student loan reform advocates, stakeholders, other elected officials, and youth enrolled in the Summer program at the center. (Click for full release.)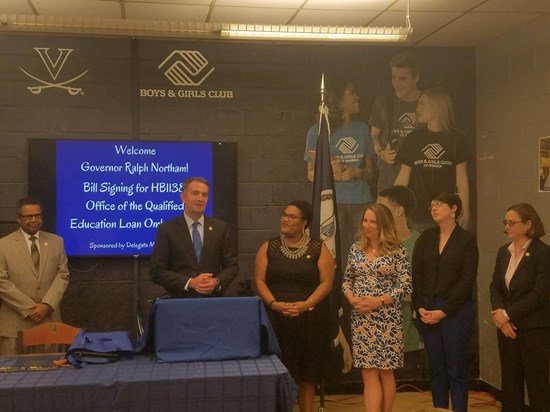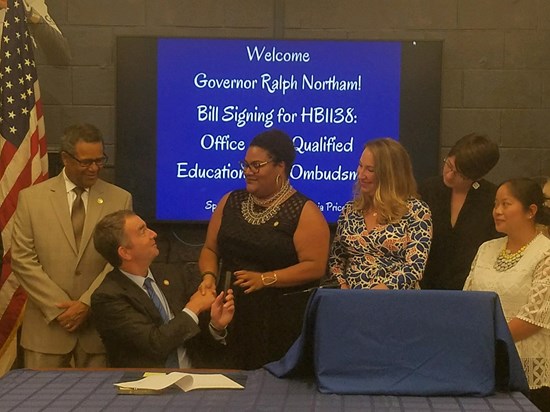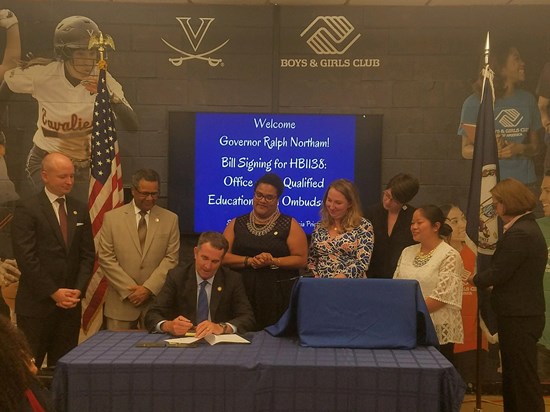 ---
Friday, June 22, 2018 4:30 PM
Price's bill creates an office that will help Virginia student-loan borrowers understand their rights and responsibilities and help resolve complaints they might have against loan providers.
The Office of the Qualified Education Loan Ombudsman, which will be established after the new fiscal year begins on July 1, will also create an educational portal online to help people understand the loan process. That will be created closer to December 2019.
Before Northam signed the bill into law, he told the small audience that there are about 1 million student loan borrowers in the state who are paying back a total $30 billion. He said a strong economy depends on people who can get the skills they need.
"So we just want to make sure we can continue to encourage individuals to go to our colleges … the less debt people have, the better," Northam said.
There is someone on the federal level who can help federal loan borrowers understand the process, Price said. The problem is when students mix and match loan structures — which happens often, she said.
"Problem is, when you have to piece together private loans, subsidized, unsubsidized, and you have this patchwork of loans," Price said. "You are supposed to go to individual loan services, which might be four to five companies, in order to get answers."
The office would serve as an independent helper that has no vested interest in a student's loan, she said. It would analyze data on the number and types of complaints it receives from student loan borrowers and could make policy recommendations that address borrowers' concerns, according to the bill. (Click for full article)
---
Saturday, June 16, 2018 4:00 PM
Read about 2018's HB 1033 carried by Del. Price to help First Responders who have been potentially exposed to diseases while on the job.
---
Wednesday, May 30, 2018 9:18 PM
Just now, the Virginia General Assembly finally passed a budget. After six years, we were able to pass a fiscally and morally responsible budget that includes the expansion of Medicaid. Closing this coverage gap means a more healthy and productive Commonwealth, with about 400,000 more Virginians obtaining healthcare coverage, potentially 30,000 new jobs created, and millions of federal dollars coming into Virginia that we can use for our priorities like teacher raises, state employee raises, funding for higher education, support for local police departments, resources to fight substance abuse and addiction, mental health resources, funding to help expand the Port's capacity, and more. Knowing that 13,000 of the newly eligible Virginians that may receive Medicaid coverage live in Hampton and Newport News, 4,800 of which live in the 95th District, this is a great day for the Peninsula and the Commonwealth. (Click for full statement)
---
Monday, May 28, 2018 6:05 PM
In one of his last actions as a city official, Bateman asked his colleagues to endorse a resolution urging the General Assembly to consider "extreme risk protection orders," which have gained some national attention after a Florida High School shooting in February left 17 people dead.
Members of Newport News' delegation had mixed thoughts — between this being a good start and perhaps going too far.
Del. Marcia "Cia" Price said she has heard concerns about enacting such a law, so she wants to create a workgroup to create a consensus.
"I'm generally supportive of measures that would help keep guns away from dangerous people and dangerous situations," Price said. "How we go about creating the legislation, I think, would take the work of convening the stakeholders."
(Click for full article)
---
Thursday, May 24, 2018 11:20 AM
This week, we give you a quick update on how the Senate has again delayed a vote over its budget — and the prospect of Medicaid expansion. The move drew frustration from the governor, the House of Delegates and Democratic senators.
But we'll spend most of the podcast talking to Del. Marcia 'Cia' Price, D-Newport News, about her entry into politics, the challenge of being a woman of color in the General Assembly and the phone call she made to Gov. Terry McAuliffe — a strong Hillary Clinton supporter — when she decided to back Bernie Sanders for the Democratic nomination for president.
---
Tuesday, May 22, 2018 8:29 PM
My newsletter updating you on the budget process after the Senate failed to pass a budget.
---
Monday, May 21, 2018 6:25 PM
Marra was joined in Newport News by 15 others — local lawmakers, housing authority officials and representatives from Realtor associations — to discuss the issue of evictions during a roundtable hosted by U.S. Rep. Robert C. "Bobby" Scott, D-Newport News. Missing from the table were the smaller private landlords who came up a lot as the group discussed what is causing evictions in the area.

For Scott, the most practical solution is to get more funding for local housing authorities through the Department of Housing and Urban Development (HUD) to create more affordable places to live for low-income families...
State Del. Marcia 'Cia' Price, D-Newport News, said that she would welcome this discussion on the state level to see what can be addressed.
---
Saturday, May 19, 2018 12:00 AM
**PLEASE NOTE NEW DATE AND TIME***
Hear an update from me on the 2018 Legislative Session, Reconvened Session, and Special Session and offer your feedback as we begin to prepare for the 2019 Legislative Session! Are you interested in the budget, medicaid expansion, education, workforce development, crime prevention, and more? Get your questions answered and share your ideas.
Be a part of the legislative process.
All are welcomed, first-timers and old pros!
We will provide snacks, beverages, and important information! Be sure to click to register for this free event.