Welcome to my website! I was elected to represent the 95th District in the Virginia House of Delegates (parts of Newport News and parts of Hampton). I am honored to serve the citizens and help make the Peninsula an even better place to live, learn, work, play, and raise a family.
The 2018 General Assembly Legislative Session began at 12noon on Wednesday, January 10, 2018. All 100 members of the Virginia House of Delegates took our oath to begin a new term. Watch our Official Swearing In by clicking here. We adjourned Sine Die on March 10, 2018. Special Session I for the purposes of passing a State Budget began on April 11th and the budget was passed on May 30th, including Medicaid Expansion. Reconvened Session occurred on April 18, 2018 to vote on actions from Governor Northam. We are still in Special Session I and may reconvene in August.
Sign up for our email news letter to receive important updates.
Be sure to check back often for news posts and updates from the District. Stay informed on this site and our social media pages to stay connected to what we're doing and how you can help!
Now, let's go make a difference!
Sincerely,
Delegate Marcia "Cia" Price,
Virginia House of Delegates, District 95
"Be the change. Do the work."
updated 6/22/18
News
Tuesday, June 26, 2018 1:29 PM
NEWPORT NEWS—Governor Ralph Northam today announced that the Commonwealth of Virginia is initiating a unique partnership with Huntington Ingalls Industries' (NYSE:HII) Newport News Shipbuilding division to support a major hiring initiative. Newport News Shipbuilding anticipates hiring almost 7,000 people, including the creation of 2,000 new jobs, in the City of Newport News over the next five years. "Newport News Shipbuilding's success is important not just for Hampton Roads, but for the entire Commonwealth. Therefore, it is critical that we support growth of this magnitude with an innovative partnership between state agencies that will address the company's workforce and training needs and supply a pipeline of skilled talent," said Governor Northam. "We have a responsibility as a Commonwealth to ensure that every single one of these jobs gets filled with a skilled and trained Virginian who is ready to succeed. One of my highest priorities as Governor is to provide workforce solutions that connect Virginians to the skills, training, and opportunities required to meet companies' needs in high-demand sectors. I thank Huntington Ingalls Industries and Newport News Shipbuilding for its long-term commitment to the Commonwealth, and applaud all the state partners involved in this groundbreaking initiative." "Newport News Shipbuilding is an asset to the 95th District, the Commonwealth, and the nation," said Delegate Marcia Price. "I welcome this growth and this type of innovative approach to fill the positions, as the collaborative partnership will help find and build talent that will continue the legacy of excellence at the shipyard. Virginia is open for business and Newport News is a great location to live and work."
---
Friday, June 22, 2018 11:29 PM
NEWPORT NEWS, Va. (WVEC) -- Student loans can be hard to navigate, but Friday Governor Northam signed House Bill 1138 into law which will make it easier for students to understand the repayment process.
Delegate Marcia Price originally introduced the bill.
"Virginia borrowers from Virginia student loans can go get information, get an education, and refreshed on the rules of repayment, and also be able to get some help if there are any complaints or disputes," said Price.
Price said the bill establishes the Office of the Qualified Education Loan Ombudsman, where counselors won't have an agenda. Borrowers can talk with counselors about what the best repayment plan is for them.
"Not making money off of you, so it is really unbiased information, and kind of help you weigh out which repayment option is best for you, and your financial security," said Price. (Click for full story)
---
Friday, June 22, 2018 7:00 PM
NEWPORT NEWS, VA - Today, Delegate Marcia Price (D-95th) joined Governor Ralph Northam for the ceremonial bill signing of House Bill 1138, which creates the Office of the Qualified Education Loan Ombudsman within the State Council of Higher Education for Virginia (SCHEV). The ceremony was held at the Boys and Girls Club on Thorncliff Drive in the 95th District. In attendance were student loan reform advocates, stakeholders, other elected officials, and youth enrolled in the Summer program at the center. (Click for full release.)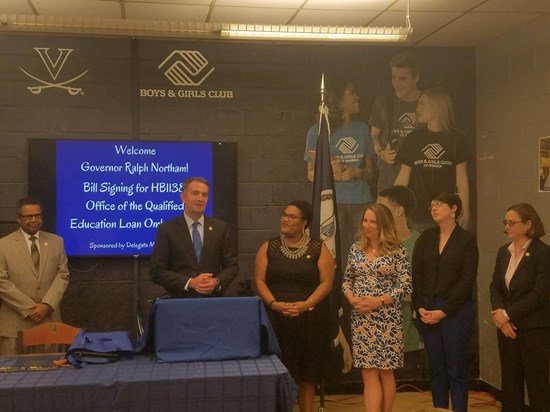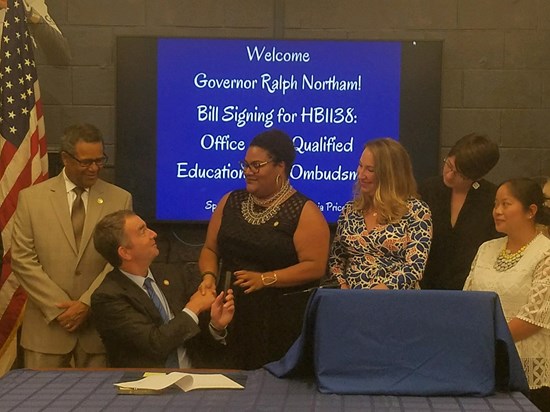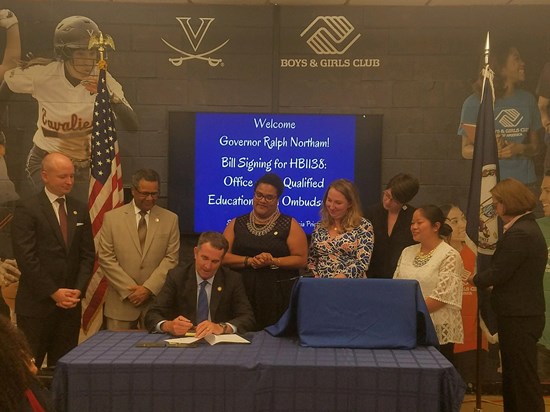 ---
Friday, June 22, 2018 4:30 PM
Price's bill creates an office that will help Virginia student-loan borrowers understand their rights and responsibilities and help resolve complaints they might have against loan providers.
The Office of the Qualified Education Loan Ombudsman, which will be established after the new fiscal year begins on July 1, will also create an educational portal online to help people understand the loan process. That will be created closer to December 2019.
Before Northam signed the bill into law, he told the small audience that there are about 1 million student loan borrowers in the state who are paying back a total $30 billion. He said a strong economy depends on people who can get the skills they need.
"So we just want to make sure we can continue to encourage individuals to go to our colleges … the less debt people have, the better," Northam said.
There is someone on the federal level who can help federal loan borrowers understand the process, Price said. The problem is when students mix and match loan structures — which happens often, she said.
"Problem is, when you have to piece together private loans, subsidized, unsubsidized, and you have this patchwork of loans," Price said. "You are supposed to go to individual loan services, which might be four to five companies, in order to get answers."
The office would serve as an independent helper that has no vested interest in a student's loan, she said. It would analyze data on the number and types of complaints it receives from student loan borrowers and could make policy recommendations that address borrowers' concerns, according to the bill. (Click for full article)
---
Wednesday, May 30, 2018 9:18 PM
Just now, the Virginia General Assembly finally passed a budget. After six years, we were able to pass a fiscally and morally responsible budget that includes the expansion of Medicaid. Closing this coverage gap means a more healthy and productive Commonwealth, with about 400,000 more Virginians obtaining healthcare coverage, potentially 30,000 new jobs created, and millions of federal dollars coming into Virginia that we can use for our priorities like teacher raises, state employee raises, funding for higher education, support for local police departments, resources to fight substance abuse and addiction, mental health resources, funding to help expand the Port's capacity, and more. Knowing that 13,000 of the newly eligible Virginians that may receive Medicaid coverage live in Hampton and Newport News, 4,800 of which live in the 95th District, this is a great day for the Peninsula and the Commonwealth. (Click for full statement)