Welcome to my website! I was elected to represent the 95th District in the Virginia House of Delegates (parts of Newport News and parts of Hampton). I am honored to serve the citizens and help make the Peninsula an even better place to live, learn, work, play, and raise a family.
The 2020 General Assembly Legislative Session began at noon on Wednesday, January 8, 2020. During Session, all 100 members of the Virginia House of Delegates met every Monday-Friday at noon and you can watch all previous sessions here. The House has 14 standing committees and the meetings were held at various times during the week. Find our committee video here. Can't remember how a bill becomes a law, no problem! Get your refresher here to follow along the process.
After extending the session by a few days, we adjourned sine die on March 12, 2020. Our next step in the legislative process will be Reconvened (Veto) Session on April 22, 2020. There the Senators and Delegates will react to the Governor's vetoes and amendments to bills.
Most bills will become law on July 1st, unless there was an emergency clause which would have a sooner enactment date, or a delayed enactment clause which would mean the law would not go into law on July 1st.
You can track all of the bills that were introduced this year, and see which ones have been signed by the Governor. Here is the link for the bills I have introduced this year: bit.ly/Price2020Legislation
I would love to hear your feedback on the bills as we move toward Reconvened Session! We encourage you to use this site, emails, and phone calls for constituent communication.
In the meantime, sign up for our email newsletter to receive important updates. And be sure to check back often for news posts and updates from the District. You can use this site and our social media pages to stay connected and see what we're doing and how you can help! We have included important information on COVID-19/Coronavirus and the 2020 Census. Take a look around the site!
Thank you for visiting!
Sincerely,
Marcia "Cia" Price
Member, Virginia House of Delegates
95th District: Parts of Newport News and Hampton
"Be the change. Do the work."
updated 3/12/2020
News
Wednesday, April 1, 2020 12:56 PM
Today is Census Day! The 2020 Census is very important for the 95th District. I encourage you to complete yours today! You can complete it online, by phone, or by mail. We can't afford to go undercounted, so please make sure your loved ones have all be counted.
For every person that chooses not to fill out the Census, they leave an estimated $2,000 on the table per year, for 10 years. That's right, PER PERSON! So YOU can take 15 minutes of your day and it's like giving your community $20,000!
YOU can make a BIG difference with 15 minutes.
To find out more info, go to https://delegatemarciaprice.com/2020-census-info
Click this article for more information and more shareable graphics!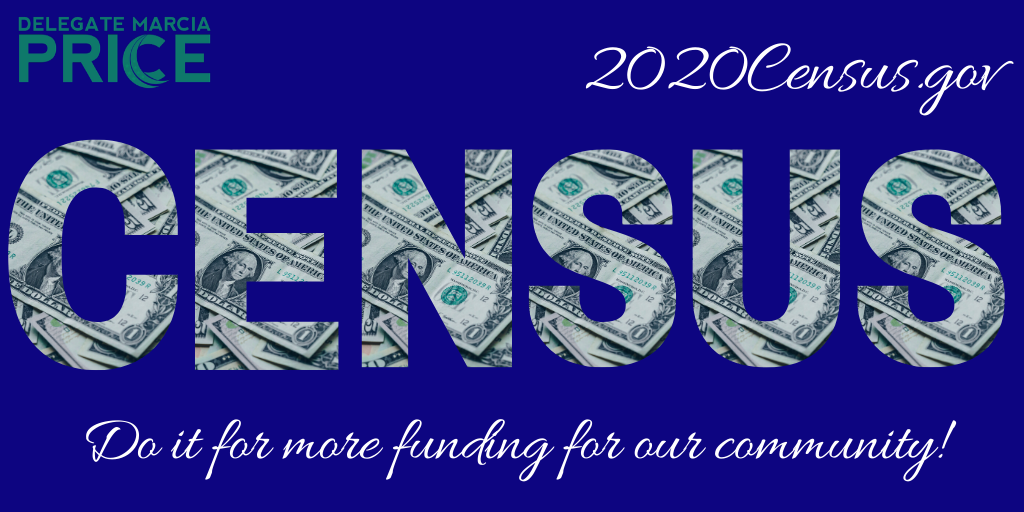 ---
Friday, March 27, 2020 5:39 AM
Del. Price holds COVID19 Update!
On March 24, 2020, Delegate Price hosted a COVID19/Coronavirus update using Zoom for her constituents. She was joined by special guests Dr. Steve Julian (Peninsula Health District), Rep. Bobby Scott (VA-3), Mayor McKinley Price (Newport News), Karen Joyner (VA Peninsula Foodbank), Dr. Leslie Sale & Emily Webb (VDOE), Tram Nguyen (New Virginia Majority), Sanu Dieng (Transition Family Violence Services), and Kapoua Conley & Dr. Anthony Fisher (Sentara Careplex Hospital). You can view the video from the presentation here:
For more information, please visit: https://www.delegatemarciaprice.com/info-on-coronavirus
---
Monday, March 16, 2020 1:16 PM
Online Office Hours & Updates
Due to the issues we are experiencing with COVID19, my team and I will not be attending public events or having face-to-face meetings. We are still working, just in a different way. Contact our office today to request:
Constituent Services

Online Office Hours (Zoom, FB video chat, or by phone)

Online Legislative Updates

Online Workshops on Civics

Online Meetings about COVID19
We look forward to connect with you soon.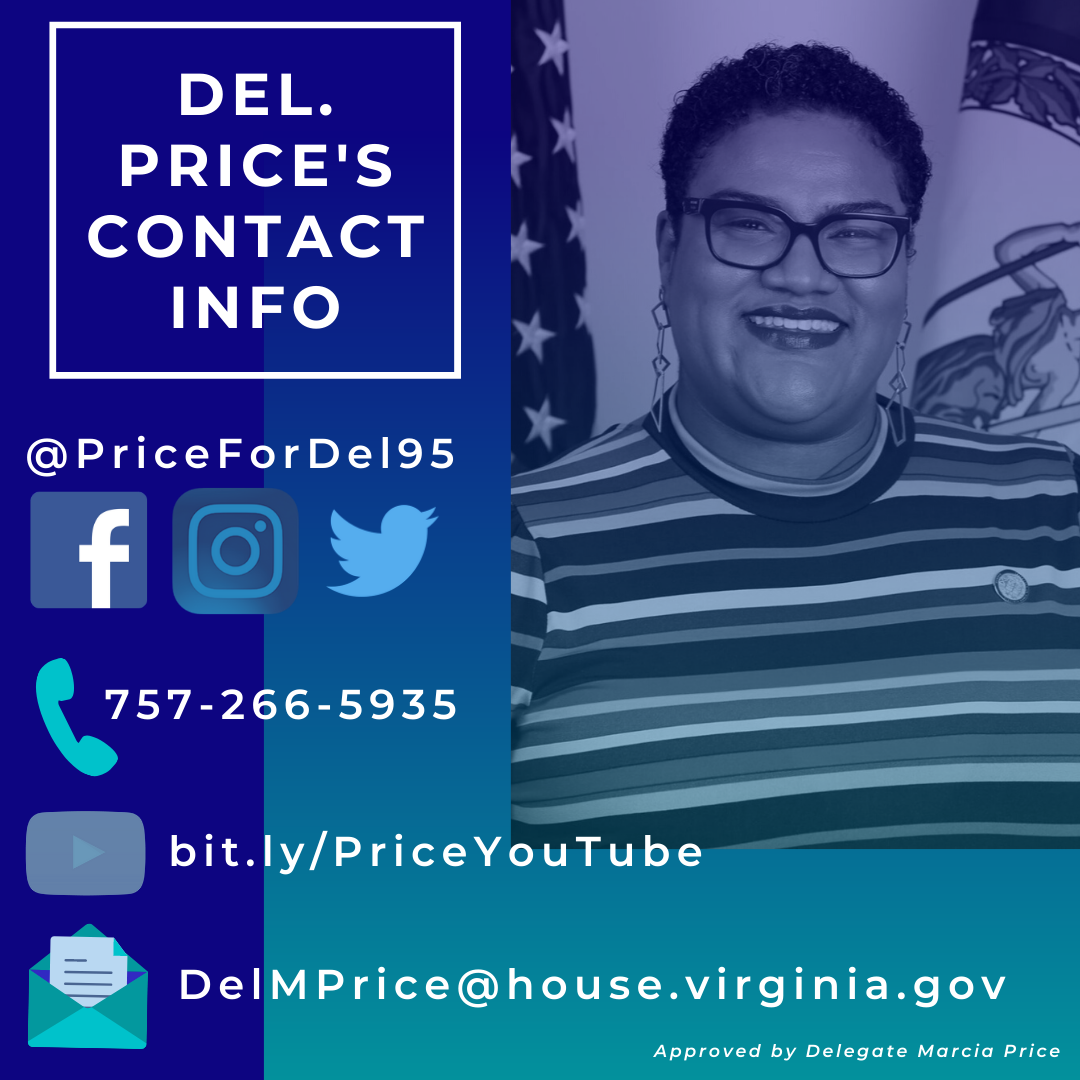 ---
Friday, March 6, 2020 3:18 PM
Friday's contentious 54-to-46 vote came over the objections of several members of the Black Caucus who favored an alternate route for redistricting that they said would better protect the interests of minorities. The debate, which has raged behind the scenes for the past several weeks, aired deep divisions among Democrats.
Supporting the amendment amounted to "the devaluation of the black voices in this chamber," Del. Lashrecse D. Aird (D-Petersburg), who is African American, warned on Thursday.
"Our 400-year history is replete with our voices being silenced," Del. Jeffrey M. Bourne (D-Richmond) said Friday, referring to the 1619 landing of the first Africans in bondage in the English colonies.
An alternative, sponsored by Del. Marcia S. "Cia" Price (D-Newport News) would have set up the same kind of commission but included language from the federal Voting Rights Act and a different system for resolving stalemates. That route would have been under statute, instead of through the constitution, because there is no time to start another amendment process before next year's redistricting.
The House approved Price's bill but had put off acting on the amendment, unable to resolve disagreements within the Democratic caucus.
Speaking during debate on Thursday, Price slammed colleagues who she said had come to her with whispers to say they opposed the amendment but were afraid to act because they'd look like they were wavering on their commitment to end gerrymandering.
Blaming "threats" and "flat-out lies," Price asked: "Who are we if we bend to that and not to fairness and justice?"
Video from Thursday's Speech, a day before the Vote.
---
Wednesday, March 4, 2020 5:25 PM
"You can be easily labeled noncompliant for something just simply because you're trying to get information," Spencer said. "My moms who really heavily advocate for themselves are immediately placed on this list where, you know, it is either non compliant with care or they don't care about what's going on with them."
Lawmakers, like Del. Cia Price (D- Newport News), know these disparities are real. When introducing a resolution to make July Maternal Health Awareness Month, she pointed to a University of Virginia study that found racial bias played a role in the treatment of Black patients.
"Physicians that were practicing in 2016 believe that African Americans experienced pain in different ways than their white counterparts which is scientifically proven to not be [true]," Price recently told a House Rules committee.
Some lawmakers like Del. Barry Knight (R- Virginia Beach) wanted to remove a line in Price's resolution stating that the root cause of these racial disparities is structural racism.
"Sometimes it looks to me like you're trying to stick a knife in there, and twist it a little bit," Knight said. "We're talking about ladies that are having babies from this point moving forward."
That struck a nerve with Price and Del. Charniele Herring (D - Alexandria) who shot back at Knight.
Sign Up for Updates
Thanks for signing up!