Welcome to my website! I was elected to represent the 95th District in the Virginia House of Delegates (parts of Newport News and parts of Hampton). I am honored to serve the citizens and help make the Peninsula an even better place to live, learn, work, play, and raise a family.
The 2018 General Assembly Legislative Session began at 12noon on Wednesday, January 10, 2018. All 100 members of the Virginia House of Delegates took our oath to begin a new term. Watch our Official Swearing In by clicking here. We adjourned Sine Die on March 10, 2018. Special Session I for the purposes of passing a State Budget began on April 11th. Reconvened Session occurred on April 18, 2018 to vote on actions from Governor Northam. We are still in Special Session I and will be reconvening on May 23rd.
Sign up for our email news letter to receive important updates.
In the mean time, call your Senator to say, "Vote YES on Medicaid Expansion!"
Be sure to check back often for news posts and updates from the District. Stay informed on this site and our social media pages to stay connected to what we're doing and how you can help!
Now, let's go make a difference!
Sincerely,
Delegate Marcia "Cia" Price,
Virginia House of Delegates, District 95
"Be the change. Do the work."
updated 5/19/18
News
Saturday, May 19, 2018 12:00 AM
**PLEASE NOTE NEW DATE AND TIME***
Hear an update from me on the 2018 Legislative Session, Reconvened Session, and Special Session and offer your feedback as we begin to prepare for the 2019 Legislative Session! Are you interested in the budget, medicaid expansion, education, workforce development, crime prevention, and more? Get your questions answered and share your ideas.
Be a part of the legislative process.
All are welcomed, first-timers and old pros!
We will provide snacks, beverages, and important information! Be sure to click to register for this free event.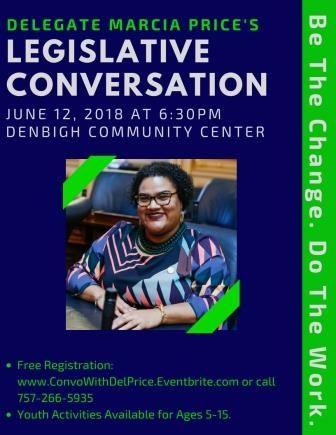 ---
Wednesday, May 16, 2018 9:00 PM
House of Delegates member, Marcia Price, of the 95th District speaks to Woodside High students about school security in the auditorium on Wednesday, May 16, 2018. Price was there with Delegate Mike Mullin to look at how Woodside High handles security.
---
Wednesday, May 16, 2018 5:50 PM
Click for 13 News Now coverage
---
Wednesday, May 16, 2018 1:35 PM
There was a big, important lesson about civics when Woodside High School government teacher Janet Costello's students gathered to meet Delegates Mike Mullin and Marcia Price on Wednesday: All about listening.
So when senior Charles Penwright spoke up with a question about why there couldn't be classes in school about guns and about their impact, Mullin and Price were listening...
Price is a leader of the House Democratic caucus's Safe Virginia Initiative, a group formed to focus on gun violence. She said it was important for young people to know they have a voice.
"Adults have dropped the ball. Kids have got us here today," she said, talking about the intensifying discussion about safety in schools and gun violence.
When she asked how many knew people, or were themselves affected by shootings, roughly two dozen students raised their hands.
About the same number did when she asked if they worried guns could come into school.
(Click for full article)
---
Wednesday, May 16, 2018 12:59 PM
NEWPORT NEWS, Va. - An anonymous letter from a student at Woodside High School to Del. Mike Mullin doesn't hold back.
"I feel as a student here at Woodside High School we need more security to prevent anything from happening. Our lives are depending on it," the letter reads.
More than 130 students from Ms. Costello's government classes at the school wrote to Mullin following the school shooting earlier this year in Florida. Mullin and Del. Marcia Price toured the school and met with students on Wednesday morning...
Through their meetings with the students, Mullin and Price say they already have some ideas to bring back to Richmond, like more funding for school counselors. "The students don't hold back," Price said. "They're very engaged on their surroundings and what is going on. It's now up to the adults to listen and do something about it."
(Click for full article and video)