Welcome to my website! I was elected to represent the 95th District in the Virginia House of Delegates (parts of Newport News and parts of Hampton). I am honored to serve the citizens and help make the Peninsula an even better place to live, learn, work, play, and raise a family.
The 2020 General Assembly Legislative Session began at noon on Wednesday, January 8, 2020. During Session, all 100 members of the Virginia House of Delegates met every Monday-Friday at noon and you can watch all previous sessions here. The House has 14 standing committees and the meetings were held at various times during the week. Find our committee video here. Can't remember how a bill becomes a law, no problem! Get your refresher here to follow along the process.
After extending the session by a few days, we adjourned sine die on March 12, 2020. And then on we returned using social distancing for the Reconvened (Veto) Session on April 22, 2020. There the Delegates and Senators reacted to the Governor's vetoes and amendments to bills.
Most bills became law on July 1st, unless there was an emergency clause which would have a sooner enactment date, or a delayed enactment clause which would mean the law would go into law on a date after July 1st.
You can track all of the bills that were introduced this year, and see which ones have been signed by the Governor. Here is the link for the bills I have introduced this year: bit.ly/Price2020Legislation
Usually, this would be the end of the legislative process for the year but because of COVID-19, the actions on HB30, the biennium budget, were to pause new spending. The Governor has announced that he will call for a Special Session where legislators will return to address budget issues after a reforecasting to see what the new projections will be for our economic situation in order to measure the financial impacts to the budget. Stay tuned for that process to begin in August.
In the meantime, sign up for our email newsletter to receive important updates. And be sure to check back often for news posts and updates from the District. You can use this site and our social media pages to stay connected and see what we're doing and how you can help! We have included important information on COVID-19/Coronavirus and the 2020 Census. Take a look around the site!
Thank you for visiting!
Sincerely,
Marcia "Cia" Price
Member, Virginia House of Delegates
95th District: Parts of Newport News and Hampton
"Be the change. Do the work."
A note about our Constituent Services work: There have been some frustrations expressed with our requirement that you let us know if you are a resident of the 95th District. While I understand that concerns and issues often do not have the same borders as districts, my primary commitment is to the people I serve and then I will do as much as I can for others. Feel free to reach out to your own Delegate if you do not live in the 95th District. Here's a link to find out which Delegate has the honor of serving you: https://whosmy.virginiageneralassembly.gov/
updated 7/15/2020
News
Monday, July 27, 2020 8:00 AM
Expecting parents can learn more about resources available to them tonight during a virtual town hall.
Delegate Cia Price of Newport News is hosting the event, which will feature representatives from Sentara CarePlex, Eastern Virginia Medical School, Smart Beginnings and the Virginia Department of Health, among others.
It's happening as the commonwealth closes out its first official Maternal Health Awareness Month.
"It's a very, very important moment," Price said. "We wanted to do an event during July to make sure that we could get all of the information out there that pregnant people need in order to have a healthy pregnancy and a healthy baby."
(click for full story)
---
Friday, July 24, 2020 1:06 PM
The petition asks that in the next COVID-19 response bill from the federal level, the government include 17-year-olds, families receive the $500 from the CARES Act, and that 17-year-olds are included in any future COVID-19 relief packages. These teens are not alone. Delegate Marcia Price is backing them. "It wasn't until checks started coming out that people understood the definition of dependent was under the age of 17," Price said. "This isn't just a Hampton Roads issue, this is a national issue." Part of the petition reads: Many 17-year-olds are working on the front lines in grocery stores and restaurants and they should not be left out. Others have been laid off from their jobs like in recreation and entertainment industries and have lost their income that often helped their families make ends meet. Some are even saving for college and this loss of income will affect the plans for their future. Those that are 17 are still dependents and should not be treated differently than those who are 16 years old. There are already more than 200 signatures on the petition. The group will ultimately send it to the federal delegation in Virginia, as well as leadership at the U.S. Senate. Link for petition: bit.ly/500For17 (Click for full story)
---
Thursday, July 23, 2020 1:15 PM
It's 2020, a year that at least sounds kind of futuristic. People are having virtual classes and even virtual happy hours. So why not a virtual session of the Virginia General Assembly?
Delegate Cia Price is a Democrat from Newport News, and she says it's time for the oldest legislative body in the Western Hemisphere to join the 21st century.
"So, It's not impossible. It is totally possible," Price says. "In 2020, when you're trying to keep 140 people safe plus their staff plus the clerk's staff. It just seems like the most reasonable route to go."
But is it really all that reasonable? Some people on the other side of the Capitol aren't so sure.
"I'm pretty sure we're going to be there," explains Senate Majority Leader Dick Saslaw. He says the senate's experience meeting in the Science Museum of Virginia earlier this year was a success — proof positive that lawmakers can meet in person and practice social distancing while conducting legislative business.
"So I don't see that as a problem. You're spaced out, you know? Hell, we were at least 15 feet from the next nearest person, not six," Saslaw says. "We were about 10 or 15 feet."*
Click to hear the radio clip.
____________________
*Please note, the Virginia House of Delegates did not have 15 feet social distancing, but struggled to achieve 3-4 feet. The Senate of Virginia has 40 members, the House of Delegates has 100 members.
---
Thursday, July 23, 2020 10:20 AM
On Thursday at 7 p.m., Delegate Marcia Price (D-Newport News) will host an online eviction town hall.
"If you are unfortunately facing eviction there are resources available. There are people that are able to help. There's information that you need in order to best protect yourself, should you go to the court," explained Delegate Price.
Lawmakers have added some new protections for people facing eviction including:
If you lost your job because COVID-19, you have the right to a 60-day delay on an eviction. You must bring proof of loss of income to court with you
If you rent a property with federal financing, it is part of the federal moratorium on evictions and you cannot be served an eviction notice until July 31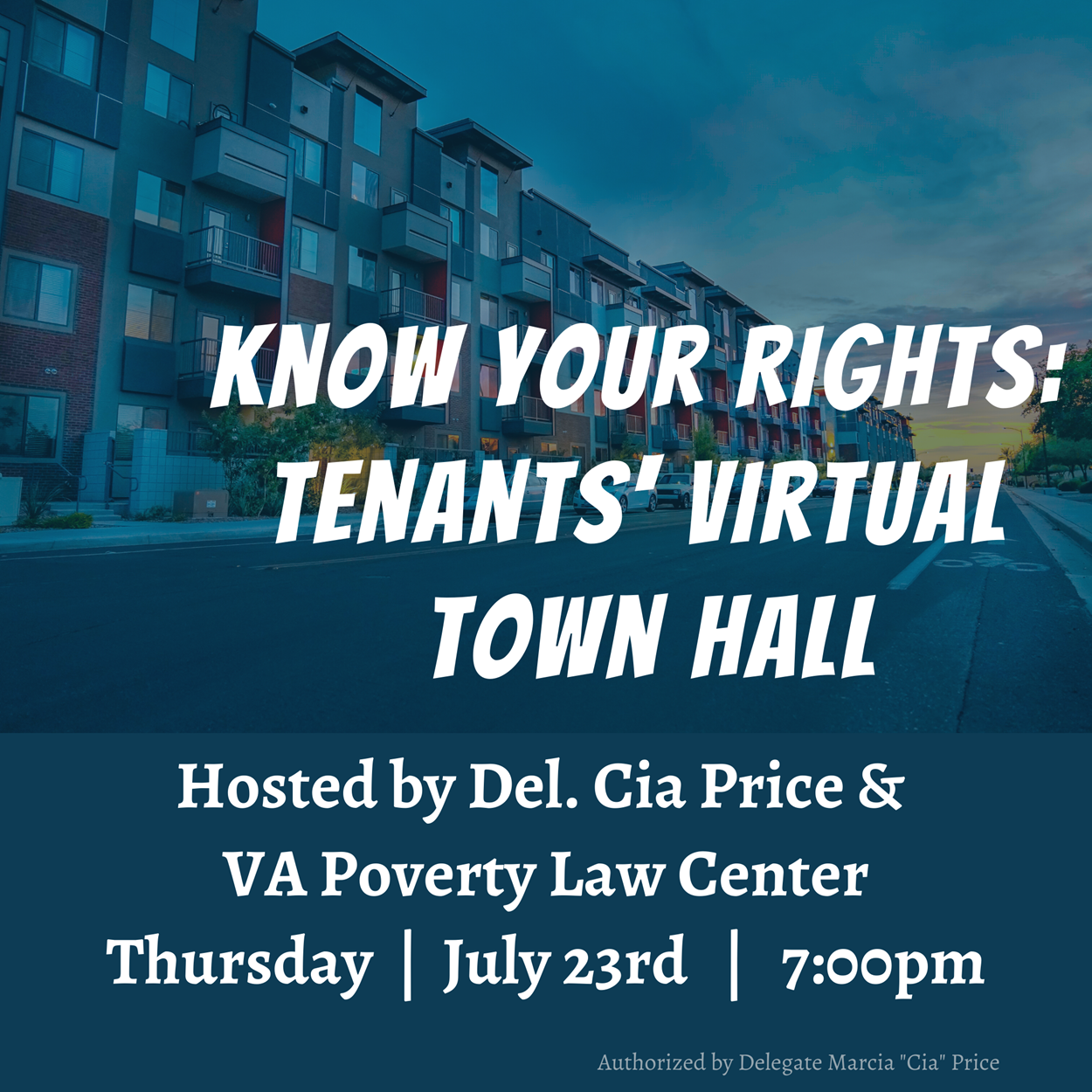 ---
Monday, July 20, 2020 1:07 PM
Black women are 2.4 times more likely to die in childbirth. Delegate Cia Price is a Democrat of Newport News who says that's unacceptable.
"Racism is not something in the past. It is actually impacting the life and death of Virginians right now, and we cannot lose sight of that just because the money is different," Price says. "But the way we go about it may have to be different because of the way the budget has been impacted. Those are part of the conversations that we will be having in the special session."
The pandemic cut a giant hole in the budget, and now lawmakers will need to figure out a way to keep their priorities while also balancing the books.
(Click for audio and full story)
Sign Up for Updates
Thanks for signing up!