Welcome to my website! I was elected to represent the 95th District in the Virginia House of Delegates (parts of Newport News and parts of Hampton). I am honored to serve the citizens and help make the Peninsula an even better place to live, learn, work, play, and raise a family.
The 2020 General Assembly Legislative Session began at noon on Wednesday, January 8, 2020. During Session, all 100 members of the Virginia House of Delegates met every Monday-Friday at noon and you can watch all previous sessions here. The House has 14 standing committees and the meetings were held at various times during the week. Find our committee video here. Can't remember how a bill becomes a law, no problem! Get your refresher here to follow along the process.
After extending the session by a few days, we adjourned sine die on March 12, 2020. And then on we returned using social distancing for the Reconvened (Veto) Session on April 22, 2020. There the Delegates and Senators reacted to the Governor's vetoes and amendments to bills.
Most bills became law on July 1st, unless there was an emergency clause which would have a sooner enactment date, or a delayed enactment clause which would mean the law would go into law on a date after July 1st.
You can track all of the bills that were introduced this year, and see which ones have been signed by the Governor. Here is the link for the bills I have introduced this year: bit.ly/Price2020Legislation
Usually, this would be the end of the legislative process for the year but because of COVID-19, the actions on HB30, the biennium budget, were to pause new spending. The Governor has announced that he will call for a Special Session where legislators will return to address budget issues after a reforecasting to see what the new projections will be for our economic situation in order to measure the financial impacts to the budget. Stay tuned for that process to begin in August.
In the meantime, sign up for our email newsletter to receive important updates. And be sure to check back often for news posts and updates from the District. You can use this site and our social media pages to stay connected and see what we're doing and how you can help! We have included important information on COVID-19/Coronavirus and the 2020 Census. Take a look around the site!
Thank you for visiting!
Sincerely,
Marcia "Cia" Price
Member, Virginia House of Delegates
95th District: Parts of Newport News and Hampton
"Be the change. Do the work."
A note about our Constituent Services work: There have been some frustrations expressed with our requirement that you let us know if you are a resident of the 95th District. While I understand that concerns and issues often do not have the same borders as districts, my primary commitment is to the people I serve and then I will do as much as I can for others. Feel free to reach out to your own Delegate if you do not live in the 95th District. Here's a link to find out which Delegate has the honor of serving you: https://whosmy.virginiageneralassembly.gov/
updated 7/15/2020
News
Wednesday, July 15, 2020 4:07 PM
Del. Price commented, "After having carried legislation on this topic six times, I was glad to see it pass this year. Advocates for gun safety and public safety have worked with legislators to bring real change to the lives of residents across the Commonwealth. The purpose of House Bill 421 was for ordinances like this that focus on community safety as residents visit public buildings, parks, and special events."

She added, "This ordinance allows the same level of workplace safety to the people that keep this city running that is afforded at restaurants and retail establishments. I applaud the Newport News City Council for their courage and leadership, showing other localities that they also can utilize this opportunity to enact policies that had been previously prohibited."
(Click to read the full release and the new ordinance)
---
Wednesday, July 15, 2020 11:48 AM
"I want to offer my appreciation for a thoughtful opinion from our Attorney General pertaining to the legal options available to address the evictions crisis we are facing. We requested this opinion because we were witnessing evictions or relief being decided differently versus uniformly across the Commonwealth. We sought clarity of the legal options Virginia's tenants and landlords have at their disposal and the options that elected leaders have to help fix a broken system. This was urgent as a housing issue and a public safety issue because of the pandemic and the 'Stay at Home Order'."
Del. Price continued, "Based on the opinion, we have a clearer sense of ways the courts, the General Assembly, and the Governor can take better action in accordance with the CARES Act, House Bill 340, and the powers within each branch of government in order to prevent evictions. I am working work stakeholders on potential legislation for Special Session and as we each work in our respective lanes, I hope that we all will do everything in our power to prevent evictions and foreclosures happening during to the pandemic."
(Click for full release and to read the letter and opinion)
---
Tuesday, July 14, 2020 8:48 PM
Mayor McKinley Price said he suggested the bill because he heard from city employees who said they've felt intimidated by visitors who have openly carried guns into their offices while complaining or raising an issue. Councilwoman Pat Woodbury was the only member to vote against the ban.
Two people spoke in favor of the ban, including Del. Cia Price, who sponsored a bill in the General Assembly to give localities the authority to ban guns in their buildings and facilities. Del. Price, Mayor Price's daughter, said the right to bear arms should be weighed against the right of people to feel safe. She said people didn't come out to speak because they feel intimidated from doing so.
(click for full story)
---
Tuesday, July 14, 2020 8:00 AM
On July 7, 2020, Del. Price joined Del Aird and the team at Transition Virginia podcast to discuss the past, the present, and the future. It was an engaging conversation that covered quite a lot. Listen at the link!
---
Monday, July 13, 2020 3:00 PM
Del. Price to Host Know Your Rights: Tenants' Town Hall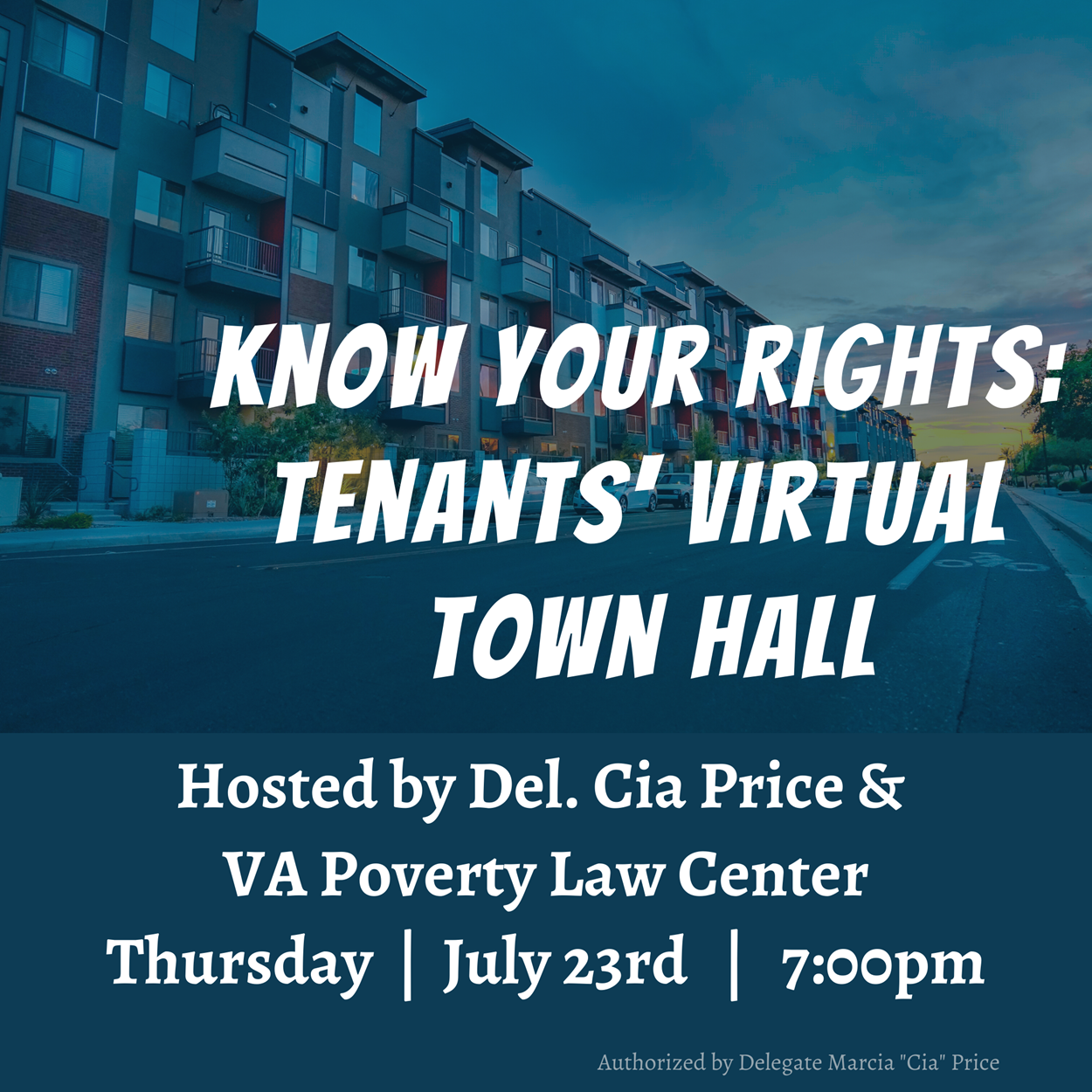 Del. Price is teaming up with the Virginia Poverty Law Center to help tenants learn more about the new laws that have taken effect and the new protections that are in place that help tenants. Register for this event at bit.ly/TenantsTownHall95
Sign Up for Updates
Thanks for signing up!